Tramspread has introduced a new remote control for its engine driven pumps that operates using Global System for Mobile Communications (GSM). The Teletram 2020 GSM remote doesn't rely on radio connectivity and instead can connect a mobile device, using 2G-5G data connections, to one or multiple pumps.
The new system has been developed in collaboration with automation specialists CTRL and features a seven-inch colour screen and industrial grade instrumentation that can be operated using Apple or Android mobile devices. Communication is not compromised by distance and multiple pumps can be controlled by the same device.
"This means that an operator pumping over an eight-kilometre distance with four pump units will only need one device to monitor and operate all of the pump units," explained Tramspread managing director, Terry Baker.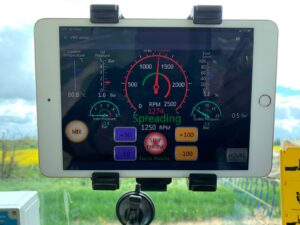 "As little as 2G connectivity is sufficient to send commands that will control one, or multiple, pump units more safely and reliably, and the operator can use any mobile device that can access a 2G to 5G network," he added.
The company further stated that this could address concerns about traditional radio-controlled remotes, which can be interrupted by others using the same frequency or can lose signal when pumping long distances.
Teletram has sensors for inlet pressure, outlet pressure and can monitor the slurry store level. It also has an air compressor control, with air pressure sensors.
"Operators will be able to start, stop, increase and decrease the throttle, and divert from mix to field, whilst also being able to monitor the engine for low oil pressure, high coolant temperature, and low coolant level. This will help to avoid costly downtime and it also gives the operator more data and control," said Mr Baker.
The Teletram remote is controlled using one mobile device such as a smartphone or tablet. Multiple pumps can be monitored and adjusted from the tractor cab or can be handheld at the slurry source.
"Our contracting division has been testing four controls since we started development three years ago and we recently sold the first commercial units to operators in Scotland and France," concluded Mr Baker.
For more information go to www.tramspread.co.uk