Massey Ferguson is now offering a choice of conditioners for its new generation butterfly mowers, as well as additional features to improve the productivity of its widest four-rotor rake model.
MF DM 8612 mowers
The latest 8.6m-wide butterfly mower, the MF DM 8612 TL, is now available with tine (KC) or roller (RC) conditioners; to increase the speed of wilting, which reduces the drying process timescale and improves crop quality.
Each model is now equipped with the latest generation TurboLift hydro-pneumatic damping system, as standard, for lateral swing capabilities of up to 19° downhill and 30° uphill.
The MF DM TL mowers, when working with 2.8, 3.0, or 3.10 m-wide front mowers, will now maintain a more uniform cut thanks to the introduction of two-position width adjustment. While the addition of a new mechanism (operated from the cab) allows the mowers to fold to below 4 m for transport and simplified coupling up. This system increases mower protection, as it has a break-back system.
KC tine conditioner
With the KC tine conditioner, four rows of flexible tines (now 5 mm longer than the previous model's) lift and process the crop against an adjustable hood. The tines are secured against loss, for the protection of following machinery, while the hood is now more durable, being made from 4 mm-thick steel.
The KC tine conditioner also now has four position settings, so users can select the most appropriate conditioning intensity for crops and conditions.
RC roller conditioner
The RC roller conditioner is marketed by Massey Ferguson as 'ideally suited to working in legumes and other leafy crops', due to two intermeshing rubber, spiral rollers that compress crops intensively but more gently than the rollers in the KC model.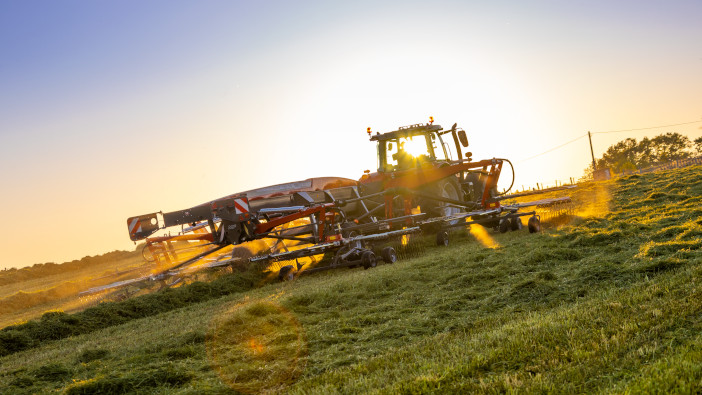 Conditioning intensity can also be selected with the RC roller, as it has adjustable roller pressure. The upper roller can also lift up, under pre-set spring pressure, so the equipment is protected from any foreign objects in the field.
MF RK 1404 TRC-PRO Gen2 four rake
A number of developments have been made on Massey Ferguson's flagship four rotor rake, the MF RK 1404 TRC-PRO Gen2, to increase productivity, durability and ease of use.
This rake model is now fully ISOBUS compliant, with proCONNECT providing the control for the following functions: single lift for all rotors, work/swath width adjustment, individual rotor height settings and headland lift.
Control functions can be programmed on the joystick too, while the myMemory comprehensive rake management system will automatically adjusts the machine to previous settings. The gapControl feature will monitor rotor overlaps, with operators able to make precise adjustments from the driving seat.
New sensors monitor the steering angle, lifting axle and swath width, and the option of five LED lights, also better the rake's usability. And, for better durability and reduced corrosion, the Gen2 four rake models now have plastic covers and sheets in replacement of metal guards.