Massey Ferguson has introduced the MF E-Loader, a new auto-control function to increase loading efficiency, accuracy, productivity and safety.
Operated through the Datatronic 5 touchscreen, the E-Loader system enables operators to monitor loader functions, weight individual loads, automate the grapple operation and set up and save automatic sequences for different loading cycles.
It is also possible to pre-set upper and lower lift limits and set angles to attach different implements.
"MF E-Loader takes loading operations to the next level of ease of use, precision and performance," said Thierry Lhotte, vice president & managing director Massey Ferguson, Europe & Middle East. "It joins a range of smart, clever and unique features on Massey Ferguson tractors that are specifically designed to enhance loader performance.
"On top of superb manoeuvrability, there's excellent visibility over the slim, low bonnet, while the Visio Roof improves the view of the load through the lift range. High hydraulic output options speed up operations while shuttle transmissions, brake-to-neutral and a dedicated multi-function joystick also make Massey Ferguson the natural choice for materials handling."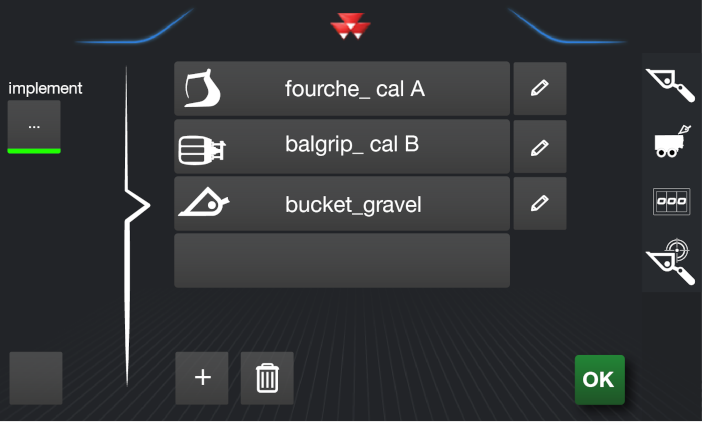 New features
The E-Loader system is available on new Massey Ferguson 5S, 6S and 7S machines, with availability on 8S machines from April next year. Key new features include automatic weighing on the move. Whether filling feeder wagons or logging bale weights or accurately recording bulk weights for produce sold off-farm or brought in.
Operators can set a target weight, when loading the feeder for example, and set it to count down. The system will then sound an alarm when the target is nearly reached. Weights can also be recorded individually, either as separate loads or as part of a daily total. There are up to 20 different counter memories and implement settings that can be saved for easy recall. Data from the system can be exported as a CSV file, via a memory stick, to keep track of loader performance.
Through the Datatronic screen, it is also possible to adjust hydraulic flow and choose the positions, either pre-set, manual or with float. Operators can also activate the new Bucket Shake feature.
Repetitive loading cycles can be simplified with easy to set automation. Upper and lower limits can be set for lifting and lowering implements, as well as adjustments to the bucket/fork position. The system can also automate the bucket inclination with auto-tilt and auto-dump, and combine the functions of a grab so that it opens and closes with the loader movement.
Massey Ferguson will offer the E-Loader system from the factory on a wide range of FL parallel and standard loaders. For more information go to www.masseyferguson.co.uk