Following the launch of the Puma 260 AFS Connect last year, Case IH has introduced a full range with greater connectivity, comfort and performance. It's said to be the most significant revision of the Puma series since its introduction 15 years ago.
Five models feature the proven CVXDrive continuously variable transmission, with another three putting power to the ground through the 19-speed Multicontroller PowerDrive powershift transmission. All models are fitted with a new 12-inch AFS Pro 1200 terminal, with an integrated turn and press encoder.
Through the terminal, operators can set up and control the AccuGuide guidance system, as well as ISOBUS operations and the AFS Connect telematics system. With each of the machines, five years of AFS Connect is included as standard.
Extending the ISOBUS capabilities, these new machines are also available with Tractor Implement Management (TIM), enabling compatible equipment to automatically adjust forward speed and steering based on the workload.
Custom drivelines
The new Pumas feature a compact 2.88m wheelbase and are powered by a Stage V FPT NEF six-cylinder engine, producing a maximum of 1,250Nm of torque on the largest model. Rated power outputs are between 180-220hp on the Multicontroller models and 180-260hp on the CVXDrive machines, with Power Management boost increasing this to 224-260hp and 224-302hp respectively.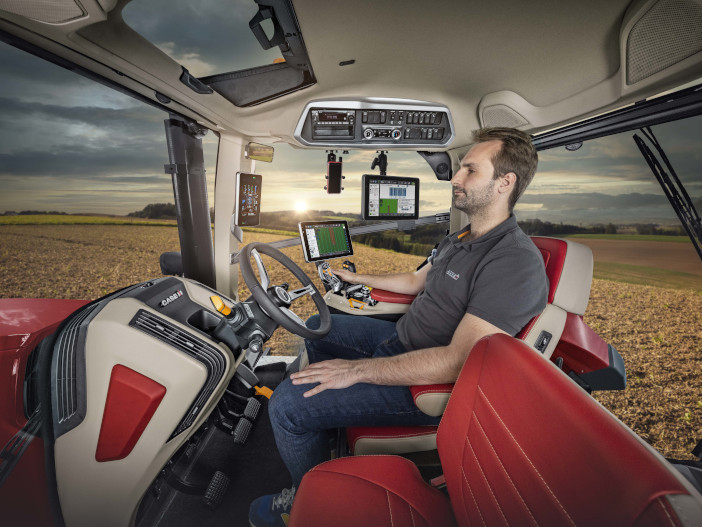 Engine service intervals have been increased to 750 hours and CVXDrive machines benefit from uprated axles, increasing the gross vehicle weight to 15,000kg and enabling rear tyres up to 2.05m to be fitted. On models rated to 50kph, the Puma can achieve this at just 1,550rpm, which combined with the larger 470-litre diesel tank increases the overall working time.
Finally, the cabin has been completely overhauled with 8% greater volume for more head and leg room, and additional storage. The updates have also dropped internal noise levels to 66dB. For visibility, there is 11% more glass over the previous generation.
For more information go to www.caseih.com