Visitors to Lamma 2022 will be the first in the UK to see the new generation of Stoll ProfiLine front loaders, which will be exhibited by UK importer Lynx Engineering.
The extended lineup now suits tractors from 50hp to 300+hp and has a new look. It also incorporates the technology platform, which includes Work Area restrictions, a system of sensors that can automatically restrict loader height when working in barns with low overhead space.
Payload weighing will also be available, enabling operators to weigh the load on the job, ensuring material loading accuracy in real-time.
These new systems, together with Electronic Self-Levelling will sit alongside established features such as the Drive-In System, Return to Dig, Comfort Drive, Hydro-Fix, Anti-Lowering Guard, rapid implement attachment using Euro-frame or Combi headstocks and Stoll's Re-scooping function.
This is said to increase the maximum tilt angle of between 40 degrees and 46 degrees, to 64 degrees by re-scooping when lifting. Boom work lights and cameras are also available.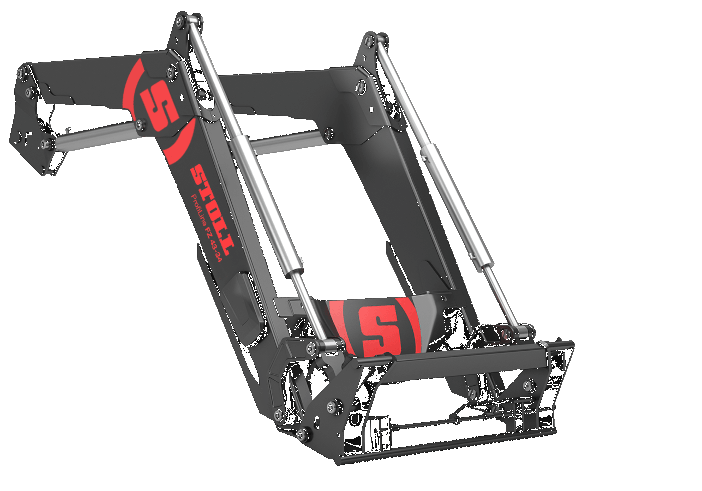 A stronger, double-acting lifting cylinder is fitted, which translates into more lifting power. In addition, the Z-kinematics technology has been further improved. This frees the operator's view of the implement by concealing the guide rods within the lifting arm boom. It also allows the front loader to be mounted closer to the cabin.
Stoll has eliminated the need to regularly replace hose lines by using wear-free steel hydraulic pipes instead of rubber. Thanks to the Hydro-Fix system, these lines can be quickly connected and disconnected.
The new generation of Stoll loaders will be available from Lynx Engineering dealers in the first quarter of 2022.
Lynx will also highlight the new range of Zuidberg steel-encased weight units, the Stoll Solid 40-22MS front loader and the Dromone automatic Fendt ball hitch.