The latest series of front loaders from Stoll, the ProfiLine Next Generation, is said to offer impressive lifting power, height, stability and loading speed. As well as this, the latest models can be attached with a range of options.
FZ loaders are manufactured with fine-grained steel, said to offer greater stability and torsional rigidity at the same time. The swing arm bar is bent from a single piece of steel, with control rods installed internally and all hydraulic lines protected but accessible on the underside.
The kinematics of the swing arm body are adapted to modern tractors, leading to optimum positioning to relieve the front axle and offer the best possible clearance for the steering angle and axle swing.
In order to avoid regular replacement and wear of the hose lines around the tie bars, Stoll uses wear-free steel hydraulic pipes.
The subframes are suitable for all common tractors and positioned close to the cab to reduced the front axle load. This shifts the centre of gravity of the front loader to the centre of gravity of the tractor.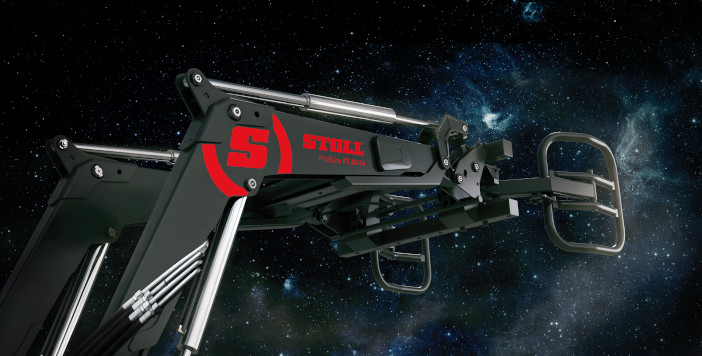 Stoll loaders can be mounted and dismounted in just a few steps, with parking supports that can be set without tools and a hydraulic connection that can be coupled under pressure. With the drive-in function, the loader can be easily attached to the tractor.
The optional Comfort Drive reduces the impact the loader and implements have on the tractor. A piston accumulator is installed on the cross tube, directly above the hydraulic block. This is filled with oil and nitrogen to cushion vibrations.
Also available is Return-To-Level, which returns the loader to its starting position at the touch of a button. It's integrated into the lifting arms and the driver can always access the function, even if the loader is mounted onto another tractor. Other options include Hydro-Fix, which enables all hydraulic couplers to be connected or disconnected under pressure.