Introduced at EIMA, the AgriMaxFactor is BKT's new 70 series, designed for both tillage and transport operations on high-horsepower tractors.
It comes following customer requests for a bigger tyre and includes an improved tread design, with increased lug length and new orientation and angle to increase handling and readability.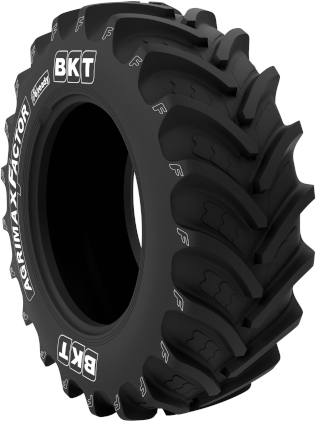 The strong carcass is made from six polyester belts, which replace the previously used nylon. Adding to this are four polyester plies, providing increased stability at any speed according to the company.
AgriMaxFactor is also the first tyre from BKT to include the E-Ready logo, representing the company's commitment towards electric vehicles – this will be extended across the whole range of suitable products.
The high torque figures available from electric vehicles have facilitated the need for new tread designs and compounds that are able to better resist wear.
The AgriMaxFactor is initially available in three sizes – 600/70 R 30, 710/70 R 42 marked by the load index/speed symbol 173 D and 710/70 R 42 marked by the load index/speed symbol 176 D. BKT states that a further twelve sizes will be available in the first half of 2023.