The latest Michelin EvoBib tyre is said to be the first agricultural tyre specifically designed for machines fitted with central tyre inflation systems, making it possible to optimise performance both on the road and in the field.
During work, the footprint is maximised thanks to the tread design and the Michelin UltraFlex structure to reduce soil compaction and improve traction. On the road, the reduced footprint and central rib in the tread cut rolling resistance and improve fuel efficiency.
According to the company, footprint variation on the new EvoBib is 47% between road and field operations – double that of the Michelin AxioBib 2 VF tyre. Compared to competitive tyres with a hybrid tread design, Michelin claims a 15% increase in traction.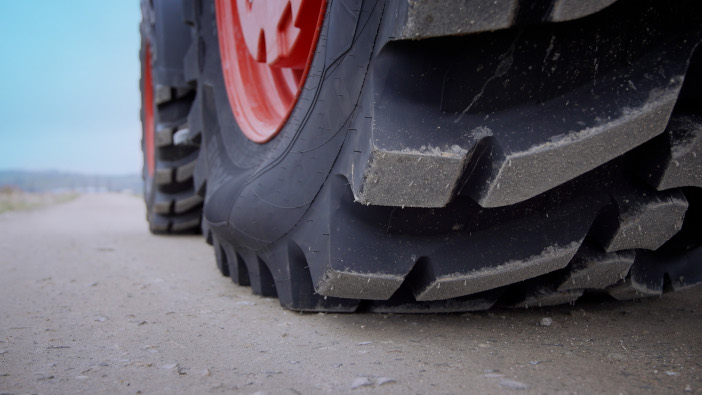 Notably, the tyre casing is now Pressure Field Operation (PFO) rated, enabling manufacturers to increase the load capacity.
Fuel consumption is said to be close to that of a standard road profile tyre, offering savings of up to two litres per hour.
Two sizes are available – VF 710/70 R 42 and VF 600/70 R 30 – designed for tractors between 200hp and 300hp, with more sizes planned for more powerful machines. According to the company, it now offers a complete range of tyres for powerful tractors.