Galway-based aerator and pasture rejuvenation equipment manufacturer Alstrong will be unveiling its new second generation Alstrong Auctus one pass rejuvenation machine at the Lamma show in Birmingham, January 10 and 11, 2023.
At the Birmingham NEC, show visitors will be able to see the Auctus machine, designed to sow seed into ploughed ground, burn-off swards or into exiting pasture in one pass and now available in a black styling finish, at the Alstrong stand (Hall 19 Stand 19.644).
This new unit has the capability to handle all size seeds from fine seed sowing from as low as 1kg/ha to grass seed at up to 80kg/ha and includes new additions such as a redesigned headstock, modified ripper paddles and a new freewheeling 'revolving scraper'.
Replacing the outgoing straight draw bar which was previously attached to the tractor via the pick-up hitch, the Auctus is now attached via a two-point linkage gyroscopic system, for up to 90 degree movement in each direction and quick and easy tractor to tractor transferability – regardless of tyre size.
For improved versatility, the tips of the sprung levelling boards on the ripper paddles have been redesigned and are now made from 8mm Hardox. The eleven sprung paddles, spread across two rows, are hydraulically adjustable too.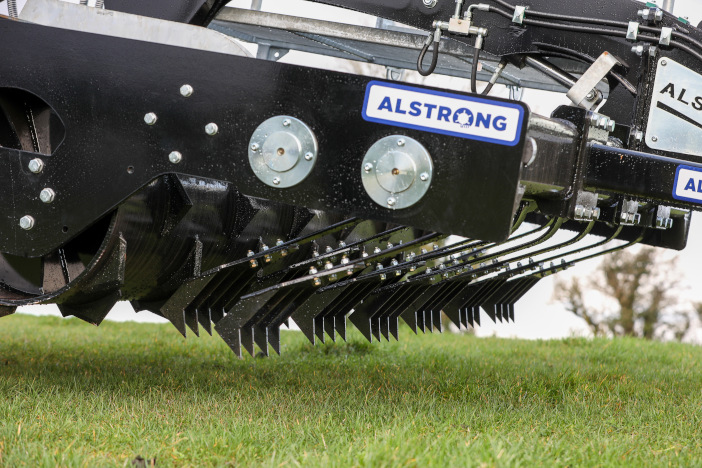 Following the ripper paddles is a spiked drum roller designed to repair poached soil and surface damage. Fitted with up to 80 mm blades, the drum cuts the ground 14 times per square metre to aerate crop root zones. If more downward force is required, the drum can also be filled with water to increase the unit's dry weight from 4.5 to 5.3t. Plus, Alstrong has now introduced a revolving scraper which runs close to the drum and in between the spikes to remove debris accumulation in sticky working conditions.
The two rows of hydraulically controlled tines have also been increased in diameter from 11 to 12mm, on the new Auctus model; designed to stimulate and further condition the sward, the heavier tine will offer even more bite. The tines can also be adjusted on the move, from the cab. This is followed by a 560mm self-cleaning prismatic roller which covers the seed and consolidates the seedbed.
The axle is now rated to be pulled at 50km/h and comes with a soft ride feature. It uses a pressurised accumulator to absorb shocks on the road, for smooth transportation. With the new generation, Alstrong has added a rear galvanised spoiler, plus eight mounting points.
The seeding unit now features a smart motor with a built-in encoder which relays real time information from the motor to the control box. Regardless of the application rate, the motor always runs at 100% torque for absolute metering precision. The seed rate can be altered on the move via the in-cab control unit, which also displays a live groundspeed reading, a hopper low level warning and records acreage.