The baler and wrapper market is a large and important market sector, with UK sales of round balers and baler-wrapper combinations estimated at 800 machines in the 12 months ending August 2022, according to Agricultural Engineers Association statistics, and during the same 12-months period, there were also 245 large square baler sales. The sales total for round balers has been falling, down from about 1,300 machines a decade ago, but the reduction is not an indication of failure for round balers generally, as it can also be interpreted as a farm machinery success story.
The market for round balers is increasingly influenced by demand at the high output end of the market where the customers are the big acreage farms and contractors. Reports from some of the leading baler suppliers agree that baling activity is still a growth sector for some contractors, and this contributes to a reduction in baler ownership on some small and medium acreage farms.
One of the recent trends in the baler market is a significant increase in the introduction of new and updated models to attract high activity customers. Much of the new model activity is concentrated at the high performance end of the market, providing new models equipped with the technology features to meet the demand from customers needing increased output, plus features that can influence quality, particularly when baling silage.
Automation is being used increasingly on new and upgraded balers, and it can also contribute to help deliver high outputs with quality control, using features such as pressure and moisture level sensors in the bale chamber. Another factor where advancing technology is making an increasing contribution is increased operator comfort, and this can involve automation of repetitive tasks such as opening and closing the tailgate.
While the baler focus remains mainly on the high output end of the variable sector of the round baler market, there is still a demand for entry-level fixed chamber baling technology, and while the output is generally much lower – so is the investment required.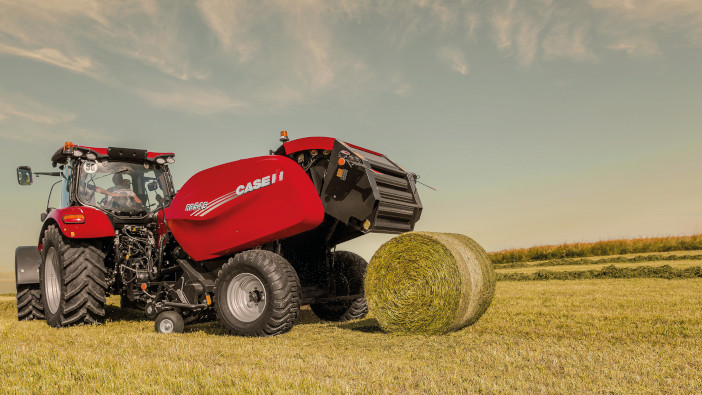 Variable chamber choices include two new heavy-duty models with a beefed-up specification for customers baling high volumes. The two models are the RB 456 HD Pro and the RB 466 HD Pro with 120cm bale width and 165 and 190cm maximum diameters. They have strengthened rolls, shafts and tailgates plus a more powerful gearbox and driveline. Starting prices are £65,562 and £73,720.
The variable chamber range also includes six RB 455/465 series models with up to 150cm maximum bale diameter, rotor cutters with 15 knives are available, and list prices start at £45,428. Fixed chamber RB 545 series balers have 4 and 5-bar pick-ups 2.2m wide, and chopping systems with up to 20 blades. List prices are from £57,682, and the RB545 Silage Pack model with plastic film pre-wrapping is available from £102,542. The entry level RB 344 series with a 2.0m pick-up is priced from £37,397.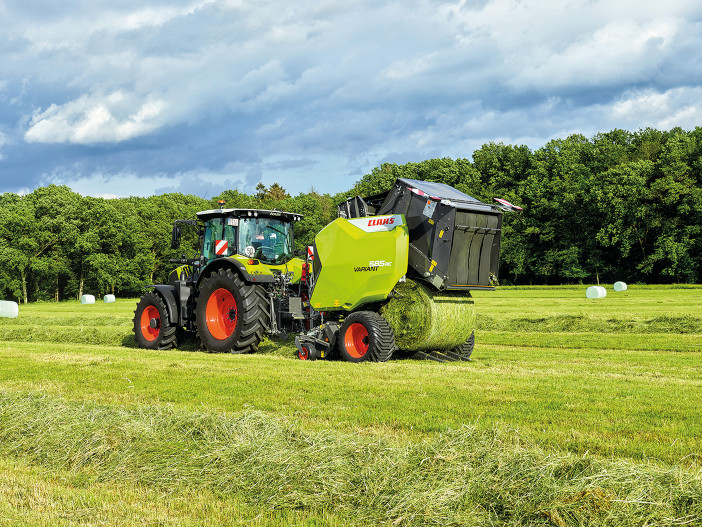 The four models in the Variant 500 range of variable chamber balers introduced this year offer a long list of specification upgrades. The models are the Variant 560 RF and 565 RC producing diameters from 0.90 to 1.60m, and the maximum is 1.80m for the 580 RF and 585 RC. Another difference is that the 560 RF and 580 RF both have a spiral Roto Feed rotor, and this is replaced on the two RC series balers by a spiral RotoCut four-star cutting rotor to boost forage quality and bale density. The standard cutting unit has 17 knives providing 60mm theoretical chop length and the PRO rotor drop floor is standard on the 565 RC and 585 RC.
Other significant developments on the new Variant 500 models include an improved net wrapping system with a lower roll position to simplify changing, and a new knife release and net brake are now fitted. Larger tyres to reduce soil damage is another down-to-earth improvement.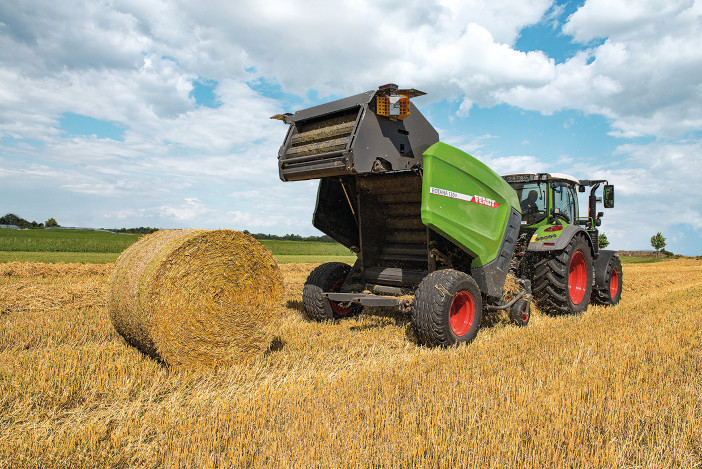 Automated operation has been extended to cover additional features on the Rotana baler series, and the new options list includes collecting and recording bale weight and moisture content data. Weight information is measured by three sensors for accuracy with two sensors in the bale chamber measuring moisture levels, and the data is stored in the ISO XML format for future reference. The figures are said to be of special interest to farmers wanting to monitor forage output and quality.
Other functions include automated cleaning of the knife slots, and Fendt has also introduced automated bale ejection. The ejection system includes a control to open the tailgate immediately once bale binding is complete, and close it without delay after the bale leaves the chamber. Rotana balers are also offered with automatic bearing lubrication, and they can also be equipped with a set of LED lights to illuminate in-field maintenance work behind the side panels.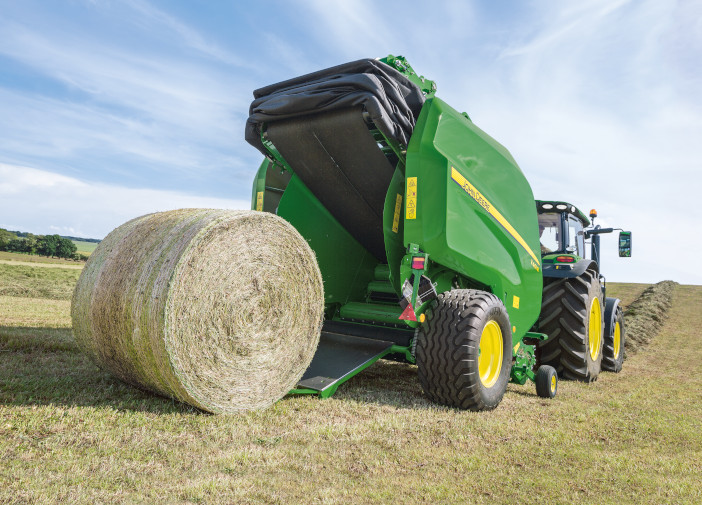 The choices in the John Deere range include fixed and variable chamber round balers. An option for contractors and large farms needing high output baling is the V461R model at the top of the variable chamber sector where it works with a 2.2m feed system, a 480mm diameter converging auger and a 1.21m chamber width. The full-width drop-floor is easily operated from the cab. The V461R output capability is said to be more than 30 tonnes of straw per hour.
There are three models in the L600 series large square baler category, starting with the L624 making 70cm x 120cm bales. Bale size increases to 90cm x 120cm from the range-topping L634 baler which has a 2.3m pick-up, a MaxiCut rotor with 23 knives and six double-tie knotters.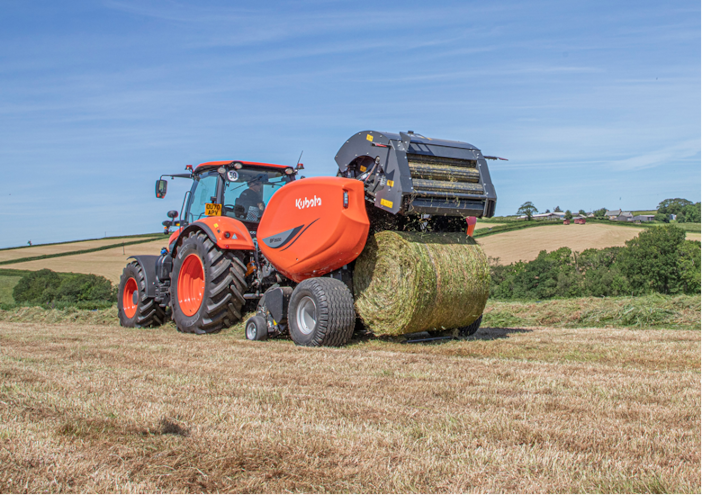 The latest arrival in the Kubota round baler range is the BF3500 fixed chamber model, introduced last year as a heavy-duty replacement for the previous BF3255 baler. The new arrival is designed to cope with a range of material including heavy grass crops for silage, and there is a long list of design upgrades starting with a new 2.3m wide XL+ pick-up working with the tine length increased by an extra 10mm.
Each of the five tine bars has a cam track at both ends and is supported on four bearings. Bale formation is handled in an 18-roller chamber with two rollers in the base to support for heavyweight silage bales. Additional design changes also include an intake roller with a bigger diameter to assist crop flow, and the drop-floor has also benefitted from a major redesign programme.
The drop-floor includes a more rounded shape under the rotor, and there is also a parallelogram action that is designed to provide additional clearance at the front and at the rear when the unit is in the lowered position.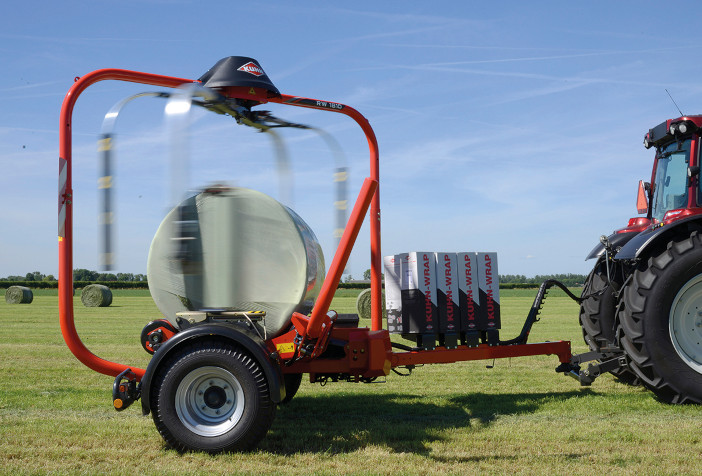 There are two series in the Kuhn round baler range, with the fixed chamber models in the FB series and the variable chamber category in the VB series. There are two FB models, both of them working with 2.3m wide pick-up reels supplying a chamber with 18 Powertrack rollers making 1.22 x 1.25m bales. The list prices for the entry-level FB3130 model start at £46,655. In the variable chamber category the top performers in the Kuhn range are the two VB7100 series models, both based on a design to suit high acreage farms and contractors. The maximum bale diameter for the VB7160 is 1.6m, increasing to 1.85m for the VB7190, and a special feature on both is the i-Dense regulation system for managing bale density levels automatically. The patented information and control system can generate bale densities up to 140kg/cu m and it also monitors moisture content levels to adjust the baling pressure. List prices for the VB7160 baler are from £72,910.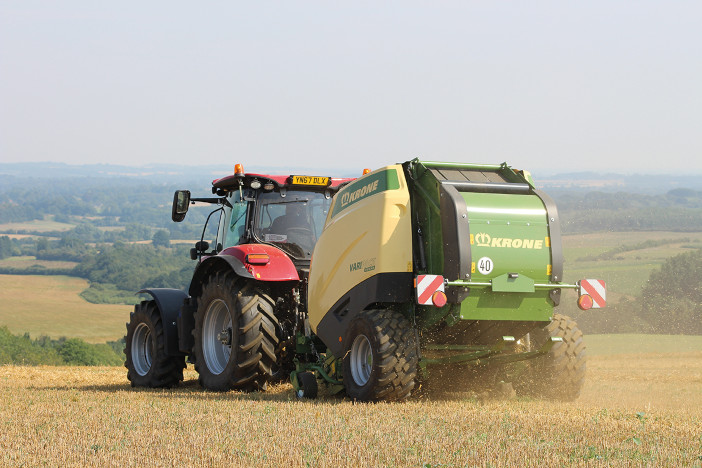 Krone UK – www.krone-uk.com
Round baler choices from Krone come in three different series, with each offering a variety of specifications. Entry level fixed chamber balers are in the Bellima series where the F130 category offers balers with 120cm chamber diameter and with net and/or twine wrapping. Bale diameters increase to 125cm for the F125XC fixed chamber category in the Comprima series, which offers balers with three compression choices including baler-wrapper combinations, and are available with a feed roller or a cutting system with up to 26 knives. There is also a Comprima+ category offering additional features including semi or fully variable chamber operation. The VariPack section, which includes the VariPack+ category, is for belt type balers designed mainly for dry crop conditions, featuring a camless EasyFlow pick-up. List prices start at £31,390 for a basic fixed chamber Bellima model, balers from the Comprima section are available at £54,075 upwards with VariPack prices from £54,895 for a V165 model.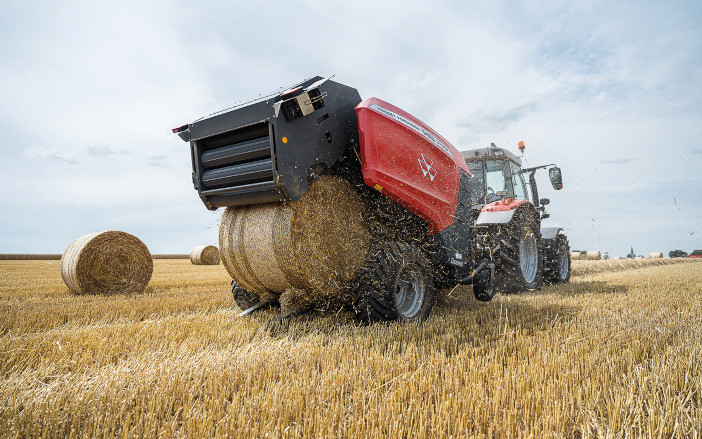 Updates on the RB Xtra Solo series round balers with the Exclusive specification package include reduced operator fatigue, thanks to automation of some tasks such as raising the pick-up reel when reversing or for bale weighing, and the tailgate opens and closes automatically after bale tying. The knife bank also benefits from new technology, which includes knife selection as well as cleaning to reduce the risk of slots blocking. Besides the reduced manual activity, the new package also includes moisture sensing and bale weighing, and the knives automatically disengage leaving bales with a smoother, uncut outer surface.
Tractors with TIM compatibility can communicate with RB series balers by using an Exclusive TIM package, and this includes the ability to stop the tractor automatically for bale tying, and a special BaleControl terminal is available to work with non-Isobus tractors. List prices for a Massey Ferguson RB 3130F Xtra baler start at £46,962.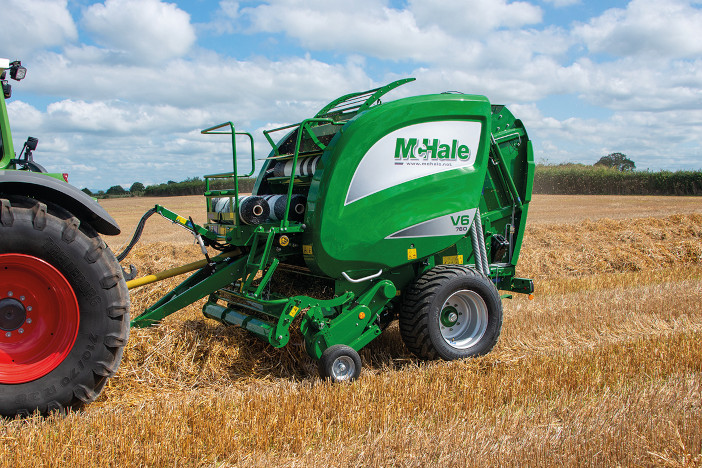 The newest addition to the McHale round baler range is the V6760 shown at this year's LAMMA event and described as the highest specification model in the V6 series. Special features of the new model are user friendliness with a high level of automatic operation, and ISOBUS compatibility is included using McHale Iso-Play 7 or 12 terminals. The standard specification includes a five-tine bar cam track pick-up, with a six-tine bar cam-less pick-up and a double crop roller on the options list Pick-ups feature new lateral feed augers to deliver crop material into the large diameter rotor.
Other V6760 features include an Adaptive Intake, automatically adjusting the intake area to match changes in the flow of crop material, an optional 1,000 rpm gearbox provides benefits including reduced engine speeds for improved fuel economy, and bale shape information from load-measuring indicators.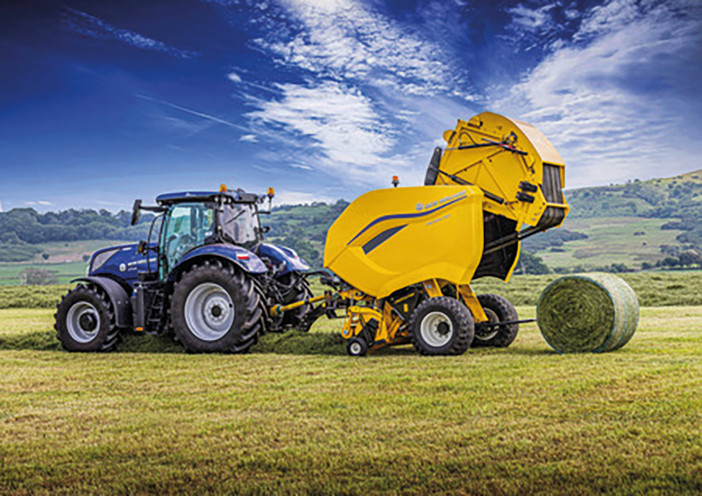 Versatility is a feature of the new Pro-Belt round balers which are designed to perform in conditions ranging from dry straw to crops for high moisture silage. New Holland is offering two new Pro-Belt models, the 165 and the 190, and both are available in three versions, starting with the New Holland SuperFeed specification, and there are two CropCutter choices for each model with either 13 knives or the top specification versions with selectable 12, 13 and 25 knives. They all share strength and durability updates including new heavy-duty drivelines, a more robust frame and improvements to the chamber.
New specifications include advanced precision technology features including ISOBUS electronics with a user interface monitoring functions including individual bale moisture levels. List prices start at £64,789 for a Pro-Belt 165 SuperFeed, topping out at £79,782 for the 190 CropCutter with 25 knives.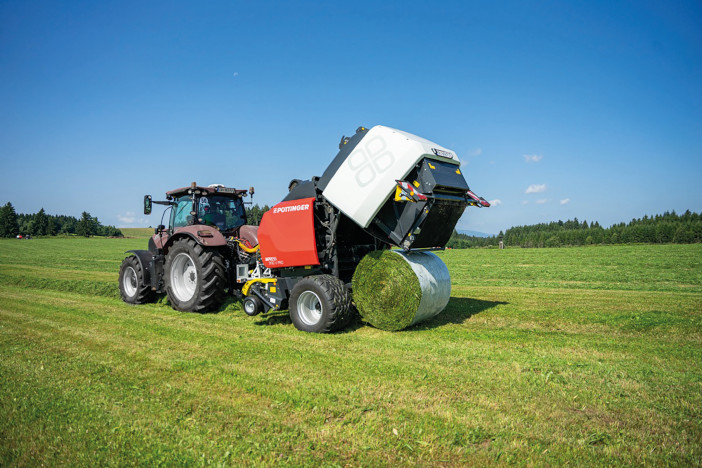 The first Impress 3000 series round balers arrived seven years ago following a Pottinger development programme, and many of the most successful design features from those machines still contribute to the performance of the current Impress 3000 series. Developments from previous models that are continuing to feature in the latest Pottinger balers include the floating pick-up and the lift-up rotor plus: a chopping unit that can be equipped with up to 32 knives.
Performance improvements currently available include a 20% increase in bale density to boost bale weight and stability, and one of the development trends has been catering for the upper end of the capacity range to meet the workload needs of large farms and contractors. The 3000 series still includes two entry-level fixed chamber models prices from £64,832, but they are out-numbered by the Impress variable chamber range with 1.55 and 1.85m maximum bale diameter, and available with or without chopping units.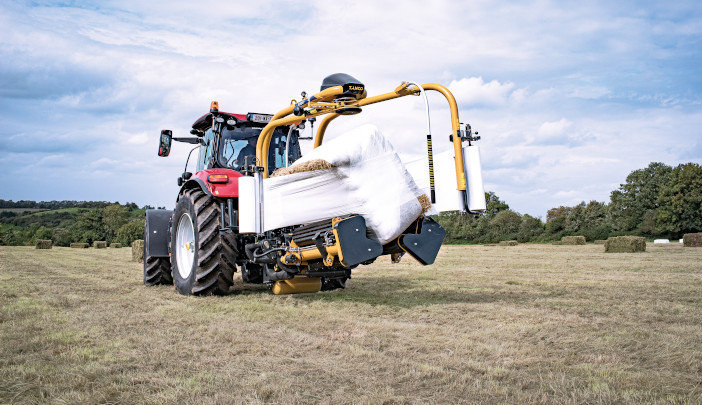 Bale wrappers are a Tanco speciality – exporting to more than 40 countries – and the Irish business's range includes both conventional turntable type and satellite machines which provide both round and square bale wrapping. The new arrival in the range three years ago was the Q-Series wrapper replacing the popular 1540-EH, and like its predecessor the more recent arrival wraps round or square bales, it can work on a tractor front or rear linkage, a telehandler or a loading shovel, and two or three dispensers can be used.
There are also some major design improvements on the Q-Series including a 600mm increase in the newer model's bale roller length to allow adjustment and increased versatility. The Q-Series can provide extra wrapping versatility and the capability it offers can also include automatic bale loading, wrapping, levelling and unloading.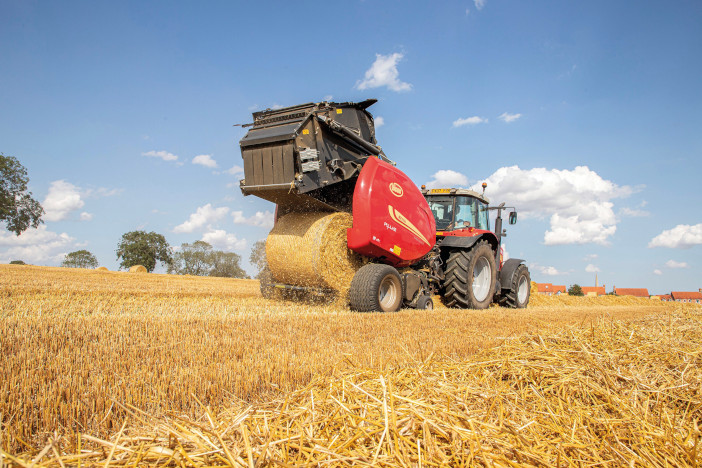 Benefits claimed for the recently updated specification on the RV5200 series variable chamber round balers include lower running costs and improved output. The RV5216 and RV5220 models have 1.65 and 2.0m maximum bale diameters. Both are offered with a Superfeed rotor or a cutting system with 14 knives, and they are now available with upgrades including a redesigned roller crop press giving increased lift height for heavier crops, and with strengthened side support arms. Another improvement is moving the roller crop bearing position to reduce the risk of wrapping problems. On the 2.2m pick-up reel, an extra 10mm has been added to the tine length, there are wider stripper plates for improved cleaning in wet crops and the pick-up drive chain is stronger. Idler rollers in the bale chamber are an improved design with a 45% increase in bearing diameter, better shielding and increased grease capacity.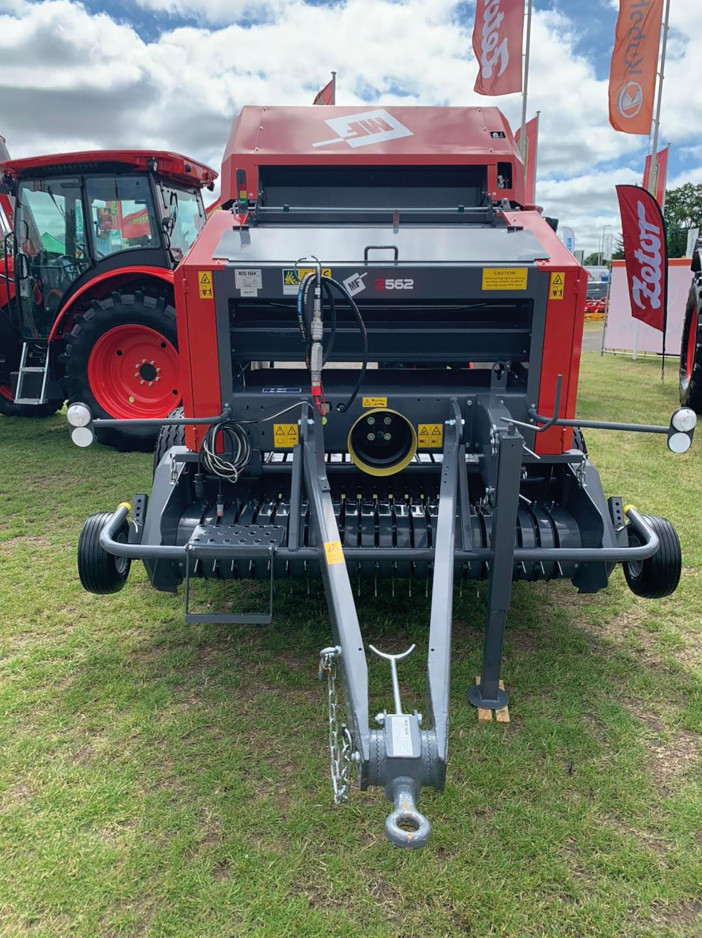 Zetor UK has recently added the Metal-Fach range of round balers to its portfolio, initially focusing on two models, the Z562 and the Z562 RN. Both models produce a 1.2m diameter bale using a 16-roller fixed chamber for silage, haylage, hay and straw. The Z562 features a 1.8m pick-up with a feeder rake, making it suitable for drier crops, while the RN model is fitted with a feeder rotor and 13 knives for a more positive throughput and increased bale density. Both can be specified with a net wrap system and are powered through a 540rpm gearbox. Standard fitment includes 400/60 15.5 tyres and centralised greasing systems. Operation is via a digital control panel, including hydraulics and net wrap control, with an integrated bale counter and overload warning system.