The newly built Karlswood Stables, in County Meath, Ireland, has been a huge project for owner and Olympic showjumping medallist Cian O'Connor.
The facilities include 20 stables for Cian's horses, with a further 24 stables currently under construction, an indoor arena, an outdoor grass arena, sand ring, gallops, hacking trails, and spa facilities for the horses.
The grounds extend to a total area of 68 acres and, as such, the Karlswood team required a range of reliable machinery and equipment to maintain the new equestrian complex.
The Karlswood farm manager, Derry McIntyre, contacted Noel Bennett – a local professional turf dealer of Dublin Grass Machinery – with a list of the equipment required for the farm.
Karlswood were presented with a new John Deere 4066R compact tractor, 1600T wide-area rotary mower, X950R commercial rear-discharge, rear-collect diesel lawn tractor and an electric TE Gator utility vehicle.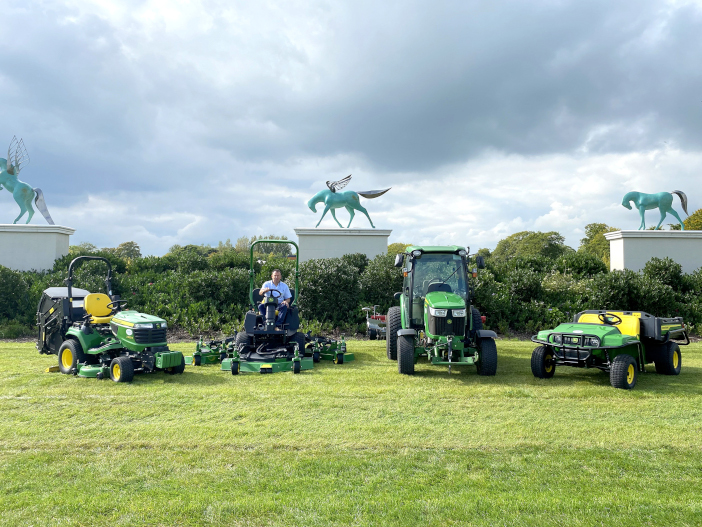 "As this is a brand-new complex, we have a lot of lawn and grass areas that have to be kept meticulously presented to maintain the high standards synonymous with Karlswood," said Derry. "The self-propelled X950R and 1600T rotary mowers are superb tools to cut the grass around our all-weather arena and lawns…the 4066R carries out a number of tasks all over the site" he adds, praising the machinery's versatility and ease of use.
"The Gator is a fantastic tool to transport various pieces of equipment such as grass strimmers, hedge trimmers and other hand tools to various parts of the farm," says Derry. "This vehicle makes it easier for us to travel around the site, and with the load bed space on the back to carry materials as well as tools, it is another reliable workhorse here at Karlswood Stables."