In its annual results for the year-end July 31 2023, Pöttinger has announced a 26.8% growth compared to the previous year, with turnover increasing to 641 million euros. Exports played a major part in this, making up 90% of the total.
Grassland equipment continued to make up the bulk of machinery sales, with new developments across the forage wagon range, as well as the new Mergento merger. Arable machinery made up just over a third of sales, with Pöttinger planning on growing this segment over the coming years.
To counteract the various supply issues seen in the industry over the last few years, the company has kept a long-term stock of spare parts and wearing parts to ensure fast shipment to customers. Pöttinger states that this side of the business has seen a double-digit increase in turnover.
Across the six production plants in Europe (three in Austria, and additional facilities in Germany, the Czech Republic and Italy) and 17 sales subsidiaries, the company now employs around 2,170 people, up from 2,000 the year before.
Investment has been focused on building efficiency within the manufacturing plants, including at the seed drill factory in Bernberg, and the competence centre for tillage equipment in Vodnany. The plant in Soitzendorf was expanded in autumn 2022, enabling a greater focus on site-specific crop care. Its baler and rake plant at Georgen, also saw investment, with the second phase of expansion being completed in April of this year.
Pöttinger also acquired MaterMacc Spa, based in Northern Italy in November of last year, adding a new line of precision seeding equipment to the product range.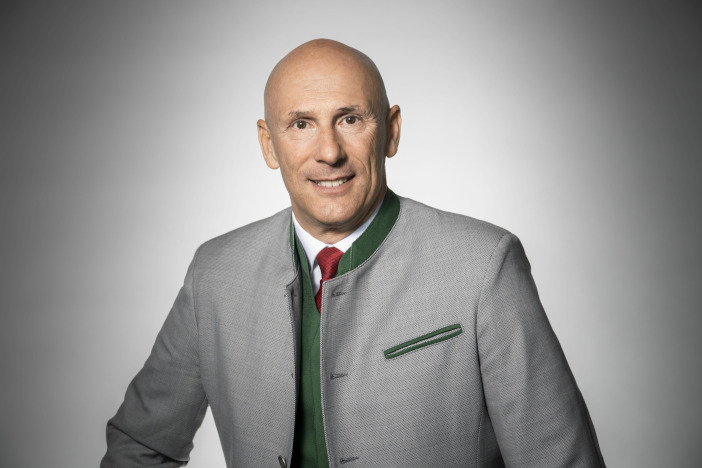 "During the past financial year we have been able to meet the needs of the international markets well, and that is reflected in the pleasing sales results. We went the extra mile to apply our skills in handling unpredictable fluctuations in demand and supply chain challenges. With the extraordinary commitment of our entire team, our innovative agricultural machines, future focused developments in digital applications and the consistent pursuit and implementation of our company strategy, we have succeeded in achieving this new burst of growth," said Gregor Dietachmayr, speaker of the Executive Board, pleased with the year's results.
However, this is no time for the company to rest on its laurels, as Dietachmayr added: "We expect lower levels of demand in most markets in the coming year. Signs of this have been apparent for several months. Despite this, there is still sufficient potential for further development and continuing on our course of growth. Supported by sufficient production capacities, a strong team, improved processes, optimised distribution and a product range that is continuously adapted to the needs of the markets, we are able to respond well to upcoming market fluctuations and are well-prepared for future challenges."
For more information go to www.pottinger.uk