Jonathan Blackman, an agronomist with Hutchinsons, has been awarded the Order of the Hop in recognition of his services to the sector for almost 30 years.
The award dates back to medieval times and biannually honours individuals from countries belonging to the International Hop Growers Convention who have contributed to the development of hop production in their country.
Dr Blackman, who is the horticultural technical manager at Hutchinsons for the Worcestershire and Herefordshire area, was presented with the Chevalier award at the 58th Congress of the International Hops Growers Convention in Prague on the 28th of July.
Chevalier is one of the three ranks in the Order of the Hop, which recognise significant achievement in the industry.
"It was an honour to be nominated and accepted for this award," Dr Blackman said. "I've been involved with the industry professionally for the best part of 30 years, but having come from a hop-growing family in Kent, I've been around hops all of my life."
He began his career at ADAS Rosemaund in 1994, where he ran hop research for five years before moving to Dalgety, and then Hutchinsons. Dr Blackman has been supporting local hop growers for more than 20 years, as well as acting as secretary for the Herefordshire Hop Discussion Group.
Past chairman, Stephen Wright, of The Hop Plant Company, nominated Dr Blackman for the award. "Myself, like many hop growers feel that Jonathan has gone above and beyond for the hop industry over the years. He has carried out secretarial duties for over twenty years, organising speakers, farm walks and meetings.
"All the chairmen that have served with Jonathan, including myself, have had life made incredibly easy with all the preparation work having been done before. I do believe that if it was not for Jonathan, the group would not exist and it would be a huge detriment to the industry."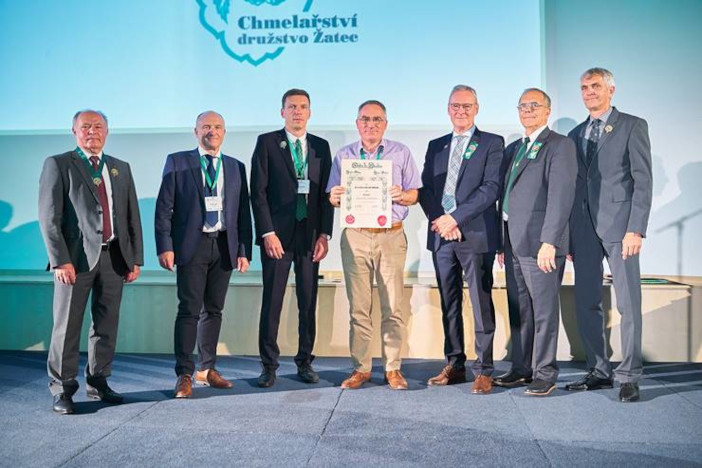 A changing industry
Dr Blackman has been a member of the Institute of Brewing and Distilling for 25 years this year and recognises that there has been a considerable rationalisation of the UK hop industry over the past thirty years.
"When I started at Rosemaund, there was just over 3,000ha of hops grown in the UK, now we're down to less than 700ha and around 40 growers in the whole country. It has been a difficult time for growers, especially through the pandemic, but there is a future for those that can tough it out."
He added that the sector needed improved prices and contracts to give growers the confidence to invest and adapt to new trends through. He noted that many new beers are American-style pale ales and use US-grown hops, rather than the traditional varieties grown in the UK.
"The industry has invested a lot in plant breeding and there is a UK-based programme to find varieties that the market wants and hopefully replace some of the imported US hops in the future."
There also needs to be a greater focus on reducing the carbon footprint of beer, which could create more opportunities for domestic growers, who could use locally-grown hops to reduce their footprint.
Alongside Dr Blackman's position at Hutchinsons, he represents the company on the AIC Commercial Horticulture Group and, independently, he is a trustee of the Marden Fruit Show Society and a member of the Expert Committee on Pesticide Residues in Food.
He continues to address other challenges around pest and disease control, acting as crop protection advisor to the British Hop Association to secure crop protection solutions for UK growers through off-label Extension of Authorisation for Minor Use (EAMU) approval. He has further instigated an Innovative Farmers project to look at controlling two-spotted spider mites.
Hutchinsons director, Mike Hutchinson concluded: "It is fantastic that the hop industry has chosen to honour Jonathan in this way. He has shown extraordinary commitment to hops and the wider horticultural industry for nearly 30 years.
"This is a great recognition of all the time, effort and expertise that Jonathan has devoted to the industry."