Leading businesses and organisations from across farming, education and STEM (Science, Technology, Engineering and Maths) have joined forces to discuss the STEM skills gap within the UK and the role agriculture can play in inspiring learning.
The roundtable follows a new report by the NFU, which highlights the effectiveness of agriculture to teach STEM.
Barriers for young people taking up STEM careers, including the lack of exciting STEM-related experiences during childhood, were discussed and the roundtable concluded that teaching through real-life and relevant scenarios such as agriculture can ignite passion for STEM subjects.
The group, which included representatives from the Association for Science Education, Rothamstead research and Warwick University, committed to working together to ensure agriculture can be used to inspire STEM learning.
During the roundtable, NFU president Minette Batters said: "The skills gap we are seeing in STEM careers is not just happening in agriculture but across the whole economy. It is vital that we encourage more young people into these roles by exposing them to the opportunities and potential as early as possible.
"It's been really encouraging to see so many organisations come together, from primary science learning and universities to some of the biggest farming and STEM businesses in the country, to align ourselves to one common goal to inspire the future generation to choose a career in STEM.
"We know from successful past experiences of the NFU Education programme that teaching STEM subjects using agriculture can help lay the pathway for STEM careers in the future and it was great to see this group of organisations really championing this approach as a way of benefitting every industry, including agriculture, that needs STEM roles."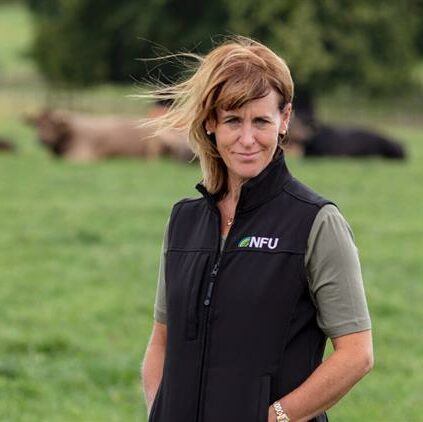 Charles Nicklin, chief executive officer at the Institution of Agricultural Engineers (IAgre) said: "There are so many careers you can go into within agriculture, it's not just farming. Over this next decade we are in for a real explosion in technology; technology in agriculture has significantly increased over the past ten years and the next steps will be developments in autonomous vehicles, drones and increased usage of precision agriculture techniques.
"All of this is going to need some really talented people, not only to design and develop the technology but to commission it on farms, advise farmers on how to use it and of course to service and repair it when it goes wrong. This means more people coming from outside agriculture into the industry, demolishing the opinion that you need to be born into it and showing everyone what exciting roles they could be doing."
Hannah Russell, chief executive at the Association for Science Education (ASE) said: "We're delighted to work with the NFU on education activities, it's really clear why those activities are so impactful.
"One of the main barriers we all have to think about is equity. Although many people have had the opportunity to spend more time outdoors over the past year, this hasn't been true for everyone. Natural England's 'People and Nature Survey' of children found that 73% of children from low-income households had spent less time outdoors during the pandemic. This disparity has also been reflected in ASE's own survey of practical science during the first lockdown.
"Agriculture has a really important part to play in outdoor learning and making sure everyone gets equal opportunities to access and benefit from it is so important."