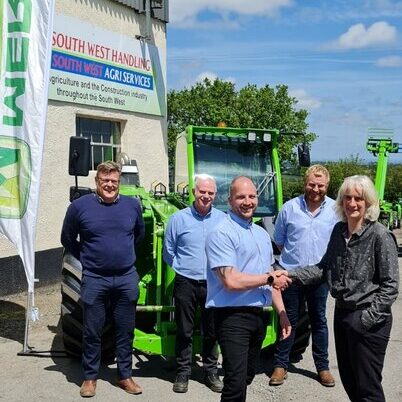 Devon based Merlo dealer C J Saunders Ltd, which has operated for 28 years, has changed ownership and will now trade as South West Handling Ltd. Tom Banbury, who worked for C J Saunders as service manager, who take on the role of dealer principal.
Louise Winsor, managing director and owner of C J Saunders and the subsidiary company South West Handling, said: "Due to having no natural successor to take over the business from myself Tom was a natural choice. Tom first started his career with us as an apprentice, attending Warwick College and completing his studies with a distinction. Tom firmly established himself in the business and became an important part of our service team.
As the Merlo business grew in strength and numbers, Tom took on the role as head Merlo technician specialising in electrics and ROTO models.
"Tom continued to progress over the years with the business and took on the mantle of service manager in more recent years. Due to tractor manufacturer policy changes, C J Saunders lost its tractor franchise, so South West Handling activities have become the mainstay of the business and the trading name we associate with the Merlo Brand."
Owen Buttle, national sales manager for Merlo UK, said: "I would like to thank Louise for her hard work and commitment to the Merlo brand over the last 28 years and I'm pleased that her expertise and vast knowledge of the products have been retained with her new role as sales manager. After many months of planning I'm very excited to be working with Tom and his team under the South West Handling trading name, securing the long term future of sales and aftermarket care is essential to our customer base, Tom and his team of ex C J Saunders staff bring decades of experience in all area's whether it be parts, sales or service."