John Deere has announced that its 2024 tractor range will see the new G5 CommandCenter displays integrated into all 6, 7, 8 and 9 Series machines.
The new G5Plus CommandCenter includes documentation, data sync, JDLink connectivity, variable rate application, section control and AutoTrac guidance as standard on all six-cylinder 6R, 7, 8 and 9 Series tractors. At 12.8 inches, the display is 33% larger than the previous generation, with a 1080P high-definition screen and a faster processor.
According to John Deere, the update will help customers achieve high levels of precision agriculture efficiency and ease of use.
6R tractors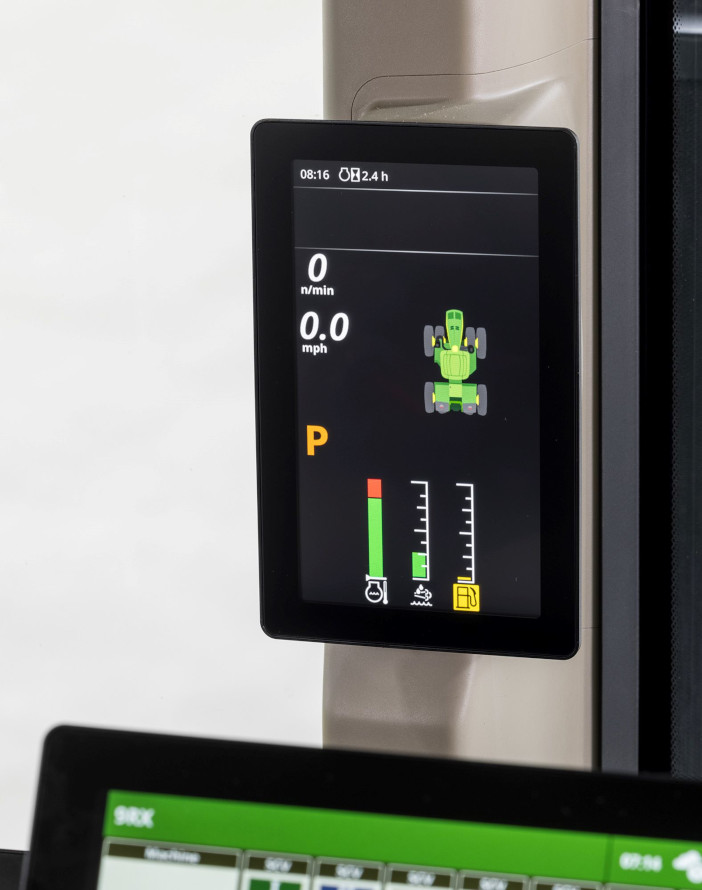 Further developments to the 6R series include a redesigned steering column and a new steering wheel for increased operator comfort.
In addition to this, a new dampening system is available on both Premium and Ultimate seats.
7, 8, and 9 series
2024 7R tractors will feature a new steering system, with a 50% increase in steering capacity, made possible by fitting larger steering cylinders. Increasing operator comfort, new models will also be equipped with the Automotive Type Steering System. which recentres itself and improves line holding. This can be activated via the CommandCenter.
Two additional front brake discs are said to enhance the transport performance of the tractor. All 7, 8 and 9 Series machines will also feature a new high-resolution corner post display and built-in StarFire 7000.
For more information go to www.deere.co.uk