To tackle resistant weeds and meet increasingly stringent regulations, mechanical weeding has experienced a boom in interest.
Following the acquisition of the Maschinenfabrik Schmotzer GmbH hoe range in 2019, Amazone can now offer the Venterra range of mechanical hoes, initially for row crops. Working widths are up to 6m (12 45cm or 50cm rows), with the hoeing frame mounted on a steering parallelogram which also houses the HORUS Professional camera guidance system. Each camera can guide up to eight rows, with 2D and 3D modes for row recognition and colour differential.
Hoeing elements include finger wheels, tines, ridgers and top work rollers, with a hoeing frame height of 100cm for work in established crops and a 50cm lift height when using GPS section control.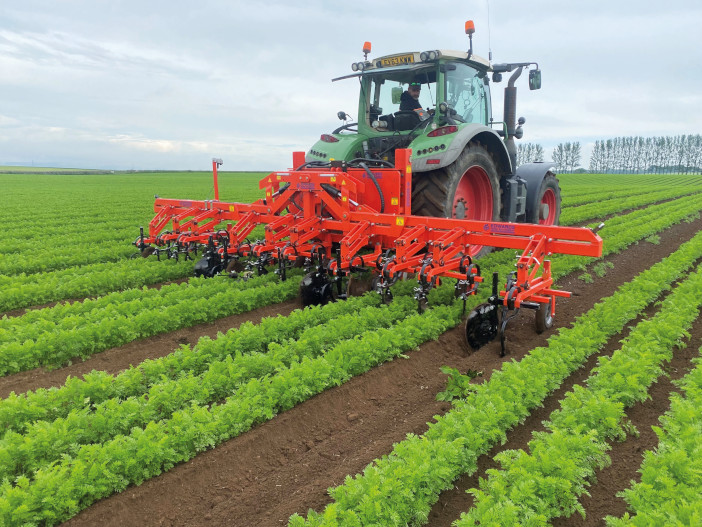 Manufacturing its own range of mechanical hoeing equipment, as well as importing the Comeb, Oliver Agro and Fardin ranges, Edwards Farm Machinery offers a range that can be front or rear mounted, with optional steering and a choice of weeding shares. There is also the option of over-the-row spraying and a front-mounted weed-wiper.
Comeb inter-row machines are designed for vegetable crops under severe pressure, with increased working depth and intensive chopping and mixing. The Oliver Agro range, works shallow between the rows and can be specified with camera guidance for row widths of just 5cm. The Fardin Maya cultivator range is designed for wide spaced crops.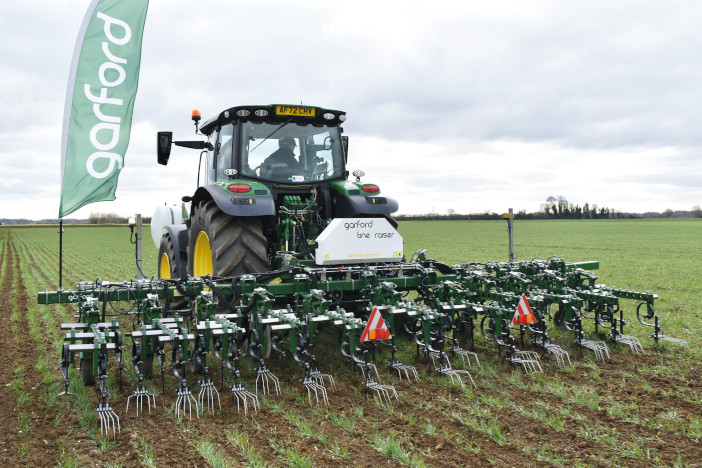 UK manufacturer Garford builds all of its mechanical hoeing equipment to customer requirements, with a wide spectrum of customisation options regarding the row spacing and hoeing elements. The flagship InRow Weeder utilises the Robocrop video image analysis software to locate individual plants between and within rows. The company also offers the Robocrop Baby Leaf, designed for operations in narrow crop lines (from 5cm). Using the Robocrop 4 Quick Touch terminal, users can see a live feed of the individual row, while the cameras guide the weeding shares up to 5mm from the plant for a high level of accuracy.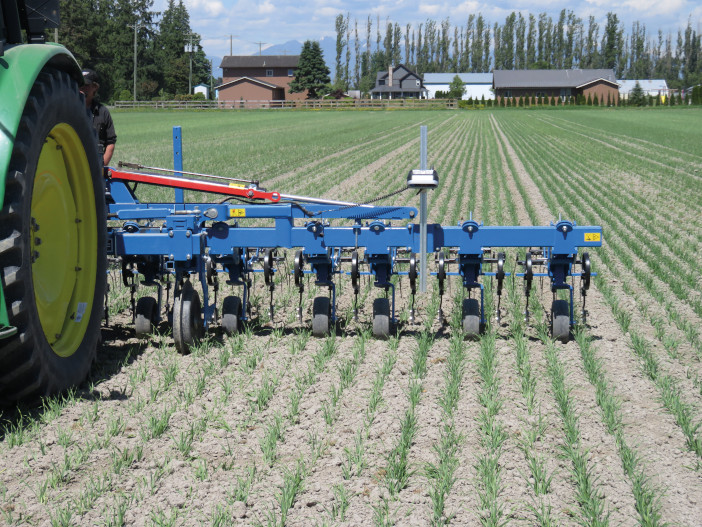 KRM brings in the French built Carre range, which underwent a significant update last year. The chassis has been redesigned to reduce the overall weight of the machine and enable the fitment of up to two camera systems, either integrated on the Econet SGI or used in combination with Precicam guidance interface.
Hoeing elements have been adapted to offer greater flexibility with the positioning of the tines, as well as providing more combinations of soil engaging components, and the hoeing unit can be lifted out of work via the tractor's ISOBUS system. Various models are available to suit different operations, with row spacings up to 80cm.

In February this year, Kverneland announced that it had acquired 100% of the shares in the French company BC Technique SAS, which produces the Phenix Agrosystem range of mechanical hoeing equipment. The range includes the 3m and 6m Helios star-wheel rotary hoe, available with Lynx colour scanning camera guidance and the X-Green guidance interface. It also includes the Onyx series of row-specific tined hoes up to 12m, with ISOBUS and section control, delivered through the X-Control parallelogram.
According to the company, the Onyx is suitable for cereals established at 12.5cm row widths. The first Kverneland branded products are expected this spring.
Read more here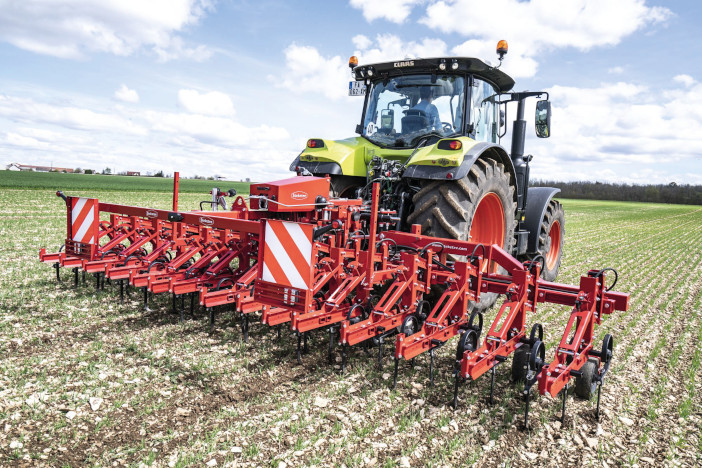 Offering the Steketee range of inter-row hoeing equipment, Lemken recommends the EC-Weeder, with row widths from 45cm up to 75cm and working widths up to 6m. As an option, this can fitted with the EC-Space manual row width adjustment. The IC-Light camera control system is also available in conjunction with hydraulically controlled parallelogram elements. It adjusts the hoe at speeds up to 15kph and recognises hues of green and the RGB colour spectrum to differentiate weeds and crop.
The EC-Steer headstock can be fitted to the EC-Weeder frame, or purchased individually to be mounted on third-party weeders, with joystick or camera-guided parallel steering.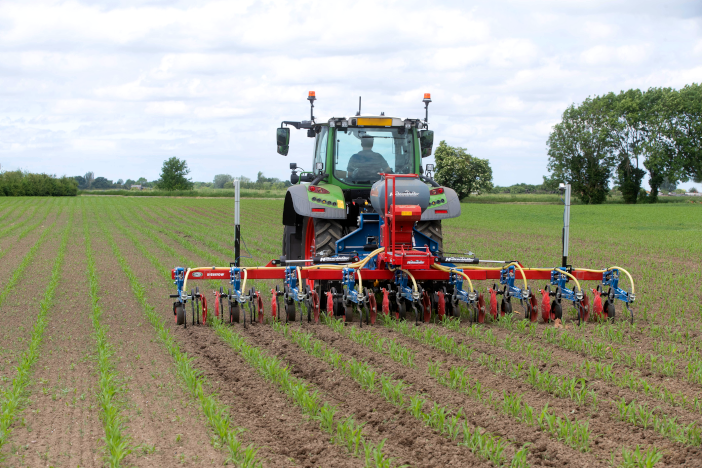 Opico offers the Austrian brand Hatzenbichler and the German-built KULT machines, with the Hatzenbichler range suitable for row spacings from 12.5cm, with working widths between 3m and 18m. All models can be equipped with the Tillett and Hague double camera guidance system, with the frame hydraulically side shifting up to 250mm in each direction. The camera system can further be linked to ISOBUS for GPS section control.
For specialist growers, the KULT range offers row spacings from 2cm, with working widths between 1.5m and 6m. Front and rear mounted units are available, as is the Tillett and Hague camera system, which is integrated into the parallelogram frame. A wide selection of hoeing elements are available for both ranges.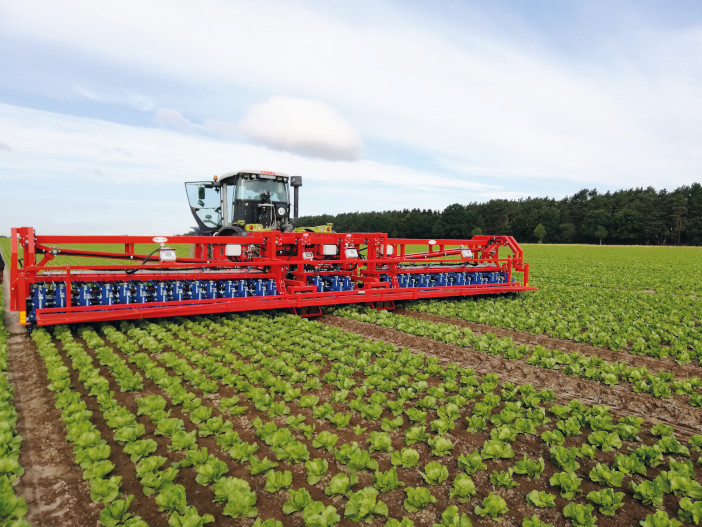 Standen distributes the Ferrari hoeing portfolio, split into two main ranges. The Remolite can be front or rear mounted, with rigid or hydraulically folding frames up to 12m and row spacings from 12cm. It can reach operating speeds up to 15kph, with the option of a double-lens optical camera to control the hydraulic sideshift.
The Remoweed is available as a tractor-mounted machine, or as a self-propelled unit (the Scorpion). Working widths range up to 12m, with row spacings from 20cm. Capable of handling intra-row as well as inter-row operations, the machine has an integral auto-guidance system installed to follow rows, guided by an infrared optical bar. All Ferrari products come with options for fertiliser and spray applications and easy reconfiguration.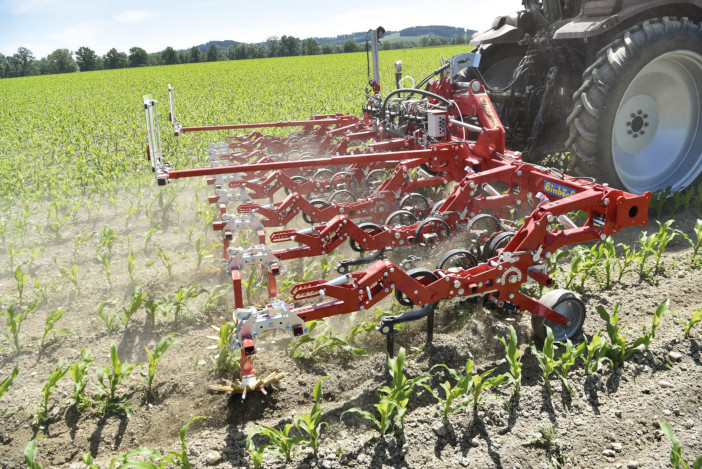 Importing the Einbock product range, Terrington offers the new Chopstar-Prime, with a newly designed parallelogram frame for the individual hoeing elements. Row spacings between 25cm and 90cm can be accommodated, with machine widths ranging from three rows up to 24 rows and a quick-locking function to adapt the machine to different crops.
Various hoeing elements are available for the Chopstar-Prime, as is the Row-Guard camera-guided hydraulic frame. A new option for the machine is the hydraulically controlled row lift, which can lift individual elements up to 50cm out of work. Notably, the machine has a standard frame height of 70cm, making it suitable for late stage passes.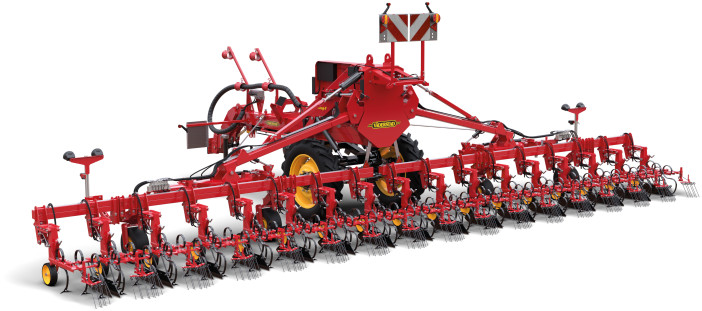 Väderstad announced the acquisition of the mechanical hoeing range from Danish manufacturer Thyregod earlier this year. This is said to be a perfect match for the company's Tempo planter and Proceed drill portfolio, with Thyregod manufacturing a patented section lift, and what is reported to be the world's first camera-controlled inter-row cultivator with individual frames.
The TRV Swingking is said to be a unique solution on the market, improving efficiency and saving passes thanks to a system that holds two working frames on the mainframe. The machines will continue to branded as Thyregod until June 2024, after which they will be produced with the Väderstad red livery.