"You can't farm by the calendar," explained Dan Willis, winner of the 2023 Oilseed Grower of the Year Award at the National Arable and Grassland Awards. "Things are changing constantly, and you need to keep your eyes open and be willing to adapt quickly."
Dan farms in partnership with his mother Hazel, who handles all the business paperwork, and his stepdaughter Eleanor Gilbert (who has made a name for herself as the Berkshire Farm Girl on YouTube and social media).
Working with three full-time members of staff, they farm 801ha of arable cropping, as well as running a contracting service specialising in baling operations, with some general operations to fit in with their own workload. They run a rotation primarily based around winter wheat, with winter rye, winter and spring barley, winter oats. winter oilseed rape and winter beans making up the balance. Establishment is done direct where possible, with an Amazone Cirrus 6001 and a Sumo DTS strip-till drill.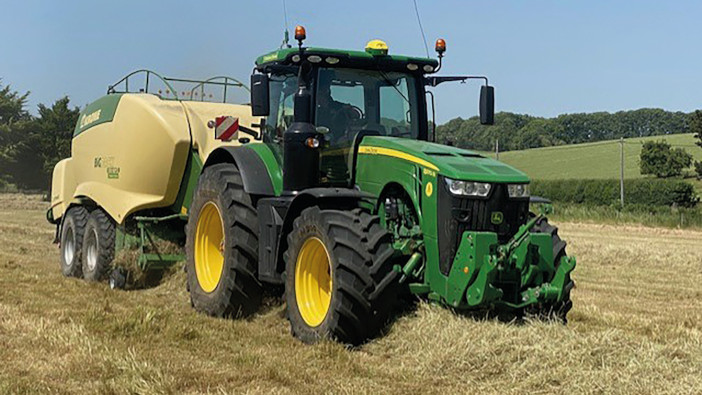 Rye and oats are new additions to the cropping regime, as Dan is exploring options to widen the rotation further and open new markets. The aim of planting rye is to reduce nitrogen leeching, leaving more readily available nutrients in the soil for the following crop, while oats represent a good market, with an additional cashflow coming in.
"We can't rely on three crops anymore. Everything we plant needs to have a secure market, or provide some benefit to the following crops," Dan said. "We're exploring multiple options, including more spring cropping and cover crops, which we've had some success with."
Stubble turnips have been the main cover crop used. The business had previously had a share farming agreement with a local beef farmer, with the cattle used to graze off the cover ahead of planting. This agreement has now come to an end, with the cattle being replaced with a flock of sheep.
Additional organic matter is put back into the soil with a series of straw for muck agreements and the use of compost. Dan has also moved to a split of liquid and granular nitrogen, fully utilising the John Deere R41i self-propelled sprayer, which is also fitted with pulse width modulation for individual nozzle control and reduced drift.
"We've seen the yield on the headlands start to catch up with the rest of the field," said Dan. "Having the fully specified sprayer also means we're reducing overlaps, not only on fertiliser but on chemical controls, meaning we're seeing improved efficacy there. The pulse width modulation has taken a little bit of getting used to, but it has allowed us to really push that window of opportunity and go spraying effectively when we would have never considered it before."

The right backup
Running a multi-faceted farming company means that it's imperative that the machinery keeps running. Dan notes that he has received excellent backup from local dealers Hunt Forest Group for the range of John Deere tractors and combine harvester, and Barnes Agricultural Services for the Amazone drill and Krone balers.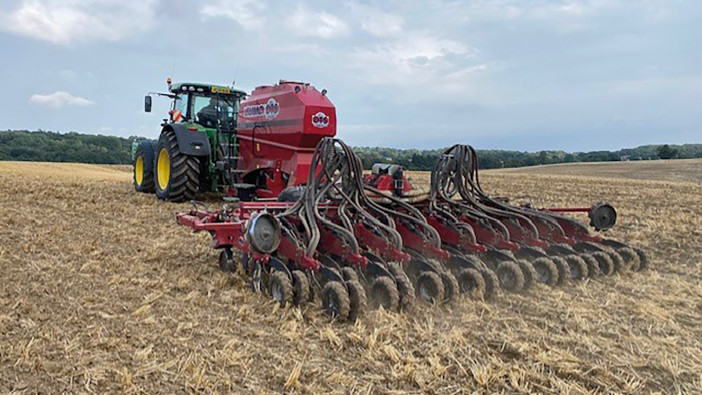 He adds that SW Hire has been integral in making sure that the business has access to additional machinery during peak periods, without significant capital investment – up to 10 additional operators can be brought during the summer months, supporting the three full-time workers.
Bartholomews agronomist Andrew Stilwell works with Dan to keep on top of any cropping needs. "He's very proactive with that side of things," he said. "For our oilseed rape, we've continued to use the conventional variety ES Mambo from Grainseed, which we like for its early vigour, which means it can get away before we have any flea beetle issues."
While Dan admits there's no blueprint for getting a successful crop of oilseed, he's seen a level of success with strip-till establishment with the Sumo DTS. "We try and get the crop in early when we can, but there must be moisture in the soil. By reducing our cultivations, we've managed to ensure this is most cases," he explained. "We've also dropped the pre-emergence herbicide in favour of cultural controls, as we felt that it knocked the crop back."
Crop residues are not put back into the soil, instead these are baled up and sold across the country – primarily going into Wales. Two Krone BiG Pack HDP2 large square balers are used to produce thousands of bales each year.
"We've always liked the Krone balers because they produce a consistently dense bale," Dan said. "Even last year, when straw was light on the ground and smashed up to chaff, we could maintain a bale weight of 520kg. This is absolutely crucial because haulage costs have increased so much that we need to make sure every lorry that leaves the yard is at full capacity."
Looking ahead, Dan notes that there are opportunities to extend the business in haulage, something that would give them greater control of their product from the field, all the way to the end customer.
"There's been a lot of investment in improving the efficiency of the business. We've upgraded our grain storage and drying facilities, we've specialised the contracting operations and we've moved into full farm contracts to maximise the use of our equipment," he said.
Berkshire Farm Girl
Between her studies at Harper Adams University, her placement at a seed merchant and her work with Dan at the home farm, Eleanor continues to run the Berkshire Farm Girl social media channels and YouTube page, designed to show the general public the hard work that happens every day of the year.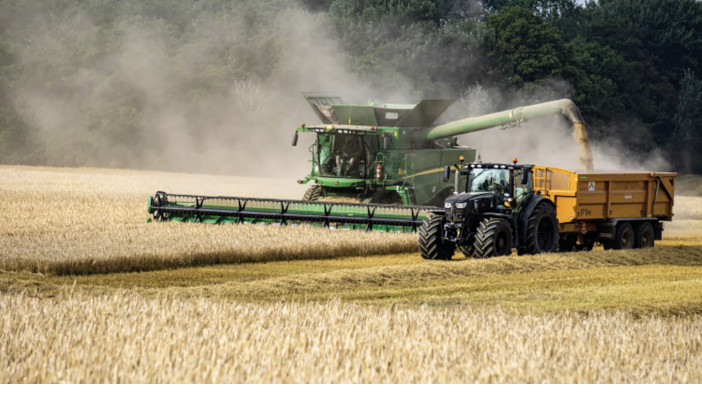 Both her and Dan recognise the benefit of getting the public involved in agriculture, engaging with them at events and through Eleanor's online platforms.
"It's easy for us to be closed off and have an 'us vs. them' mentality, but I've found that most people are interested in what we're doing, they just don't know a lot about where their food comes from," she said. "The best way to tackle this is to have open and honest conversations with them, and not get drawn into spats online."
Alongside her work promoting the industry, Eleanor is also running the Ellie's Welly campaign, working with local and national businesses to raise money for the Thames Valley Air Ambulance. You can donate by going to: www.justgiving.com/page/ellyswelly-1668673836021.
More information
Read about the 2023 NAGA winners, here.
For news and updates about the 2024 NAGA awards, nominees and winners, follow
National Arable and Grassland Awards
#NAGAwards