Amazone will use this year's Cereals Event as a launchpad for its extended pneumatic, harrow-mounted seed drill range.
The latest Centaya-C features a 2,000-litre split hopper (with either a 60:40 or 70:30 ratio), enabling the application of several products in one pass. It's available in working widths of 3m, 3.5m and 4m.
It can be equipped with either the RoTeC pro single disc, or the TwinTeC double disc coulter system. The former uses a single shoot process, with individually metered products fed to a single entry point. For example, a small amount of fertiliser can be placed directly in the row with the grain.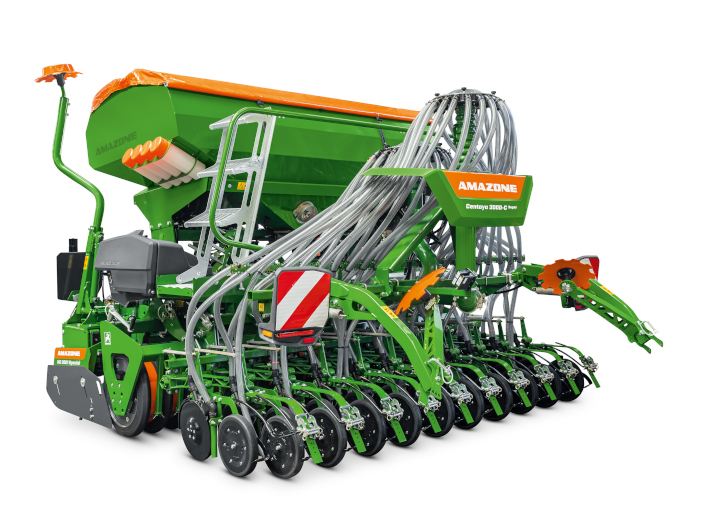 The TwinTeC system enables users to apply two different seed types or seed and fertiliser at two different entry points using the double shoot process. The offset placement means that fertiliser can be used precisely.
It can also be used in conjunction with the GreenDrill 200 catch crop drill. The third product is applied to the soil via baffle plates, fed directly from the 200-litre hopper.
Infinitely adjustable electric metering systems enable sowing rates of 0.5-400kg/ha, with working speeds up to 12kph and row spacings of 12.5cm and 15cm.
The large central hopper opening eases the filling process, while the metering units can be easily accessed via the loading board. Calibration is done via the SmartCenter, with application rates and speeds displayed on the AmaTron 4 ISOBUS display.
It can also be equipped with a quick-emptying device for fast seed changeover during work. An optional storage compartment is also available for storing additional sacks of seed.
Finally, the Centaya-C Super can be easily connected without tools to various Amazone tillage implements via the QuickLink quick coupling system, including the KE 02 rotary harrow, or the KG and KX rotary cultivators, as well as the CombiDisc compact disc harrow.
For more information go to www.amazone.co.uk