Introduced at the Groundswell event, the new izona iPass direct drill is said to be suitable for zero-tillage, strip tillage and conventional operations has been developed by Martin Lole, known in the industry for the range of Mzuri strip-tillage machines and the Razorback hedge and verge mowing portfolio.
The iPass features a 7,000-litre split tank for fertiliser and seed application, with average outputs said to be 16 hectares with a seed rate of 180kg per hectare. The tank is pressurised for metering and conveying at speed, with a twin-ladder platform for easy access. This also doubles as a centralised housing for the drill's fans and electronic systems.
Supporting the tank is a monocoque chassis with a commercial axle, with hydraulic braking as standard and flotation tyres to minimise the machine's footprint. Operators can also upgrade to air brakes if required.
Interchangeable points and coulters mean that the iPass can be converted from a no-till drill to a strip-till or conventional drill. Operators have the choice of a two-inch single shoot, or three- or five-inch double shoot coulter to achieve different row spacings.
250mm row spaced models, such as the 6m 624 iPass and the 8m 832 can achieve a conventional finish using the five-inch coulter. The iPass range also features 333mm spaced models, including the 618 and 824.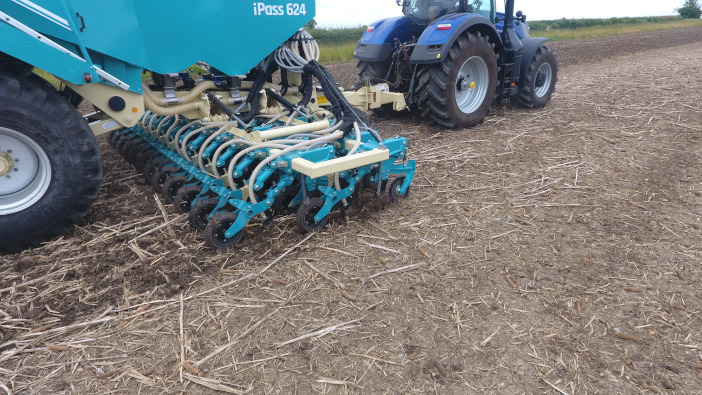 Auto-reset leading tines and front discs clear crop residue from the seeding zone to create friable soil, whilst band placing fertiliser to promote good root development. Seeding coulters are suspended via a parallel linkage that allows independent control while ensuring that the angle is unaffected by working depth.
Said to be unique on the market, a universal joint system gives the independent, hydraulically pressurised coulter arm self-steering capabilities and allows the coulter to follow undulations in the field.
For more information go to www.izona.com