Bobcat has extended its wheeled loader range with a new L95 model, sitting above the existing L85 and L75 machines. Available in a Premium specification, it features an increased power output, intuitive controls and the latest updates introduced for MY24 machines.
Jiri Karmazin, product manager at Bobcat, said: "High performance is assured in the L95 by the combination of the powerful Bobcat 75 HP engine, the hydraulics and the 40 km/h maximum travel speed. As in the L75 and L85, this is complemented by the comfortable and spacious cab, combined with the high stability and lift capacity and impressive breakout, push and pull forces, together with a comprehensive selection of Bobcat attachments. And the enhanced Automatic Ride Control system protects operators from any bumps or rough terrain."
There have been adjustments to the transmission, allowing operators to shift between first and second gear when stationary. This means that acceleration up to 40kph is available from a standing start, which the company states will improve efficiency and save money.
It's also equipped with the Flex Drive system with automatic idling, as well as an automatic parking brake and the Slope Assist system.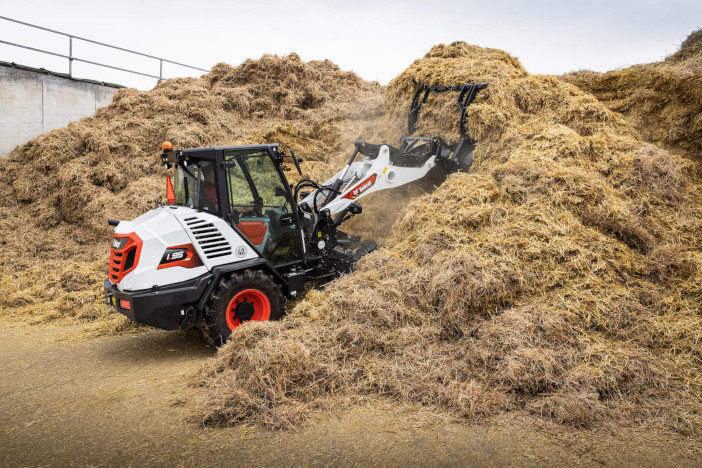 Mr Karmazin added: "In the L95, we are introducing some new features to the industry to further improve ease of use. The joystick is now integrated with the suspension seat to provide the best operator experience and comfort. The location of the controls on the joystick is designed to make it easy and comfortable to operate, even during long hours of work. Based on customer feedback, we have also improved the forward-reverse response time, together with increased lift and tilt multifunctionality, to enhance productivity and operating experience."
Elsewhere in the cabin, FOPS Level II protection is standard, as is a fully adjustable, heated seat. HVAC and an adjustable steering column are also fitted in the standard specification, along with a full glass door and an LED lighting system. For control of the machine, the L95 features an intuitive control system with differential lock, high and low ranges, boom float and auxiliary controls all mounted on the joystick.
A jog shuttle is used to manage the five-inch LED display and switch between machine information and the rear-view camera at the touch of a button.
As standard, the machine is fitted with the Power Quick-Tach system, compatible with a wide range of couplers. This has been redesigned to simplify use and protect the hydraulic connections. In addition, operators can specify the latest Bob-Tach Adapter for installing approved attachments, with the Power Bob-Tach system available as a further option.
Other options include a high-flow option, providing 100 litres per minute for snow blowers or sweepers, and Bobcat has increased the operating pressure from 200 to 225 bar. With the Advanced Attachment Control system, operators can also switch between alternate machine control patterns at the touch of a button, providing independent control of the engine speed and forward speed.
For more information go to www.bobcat.com