Slotting into the middle of the 3 Series of speciality and alpine tractors from Massey Ferguson, the 3FR is designed for wide orchards and fruit operations. In the Best of Specialized category, the company has entered the latest 3FR.115, with a new 3.6-litre engine offering a maximum output of 120hp and 465Nm.
The after-treatment system is compact and fully integrated under the bonnet to maximise visibility, with easy access to components for maintenance. Notably, the chassis is curved under the engine block to enable a tight turning circle of 3.48m.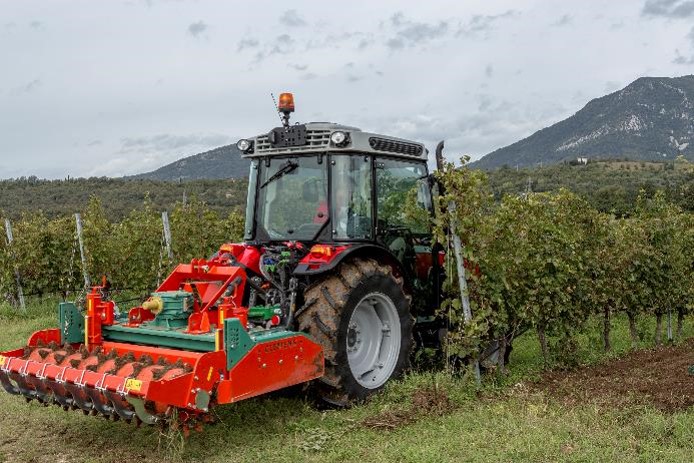 Notably, the tractor is also fitted with a new Speedsteer function to reduce the number of steering wheel turns to two, lock to lock, while a steering sensor automatically controls four-wheel-drive engagement.
There is a choice of transmission available, including a 15×15 or 30×30 mechanical box, or a 30×15 semi-powershift system. A top speed of 40kph is achievable at 1,700rpm and declutch switches are integrated into the gear lever for easy gear changes.
An open-centre hydraulic system offers 63 litres per minute as standard, with the option to boost this to 93 litres. At the rear, the hitch can carry up to 3,100kg with an optional front linkage with a capacity of 2,500kg. Up to four rear spools and eight mid-mount couplers are available, with the possibility to control up to eight via the MF joystick.
The cabin features a flat floor, and the battery has been moved to boost the seating position. Category 4 filtration is available, and the cabin is completed with ergonomic control layout and a DAB radio.