The flagship Kioti HX tractors will now be available with a series of front loaders and rear hitches, following agreements with two European manufacturers.
Front loaders are provided by Spanish manufacturer Tenias, designed specifically for this tractor range. They are available in the Kioti red livery and offer a maximum lift capacity of 1,755kg, lifting to a maximum height of 4,301mm.
Key features include quick-connect hydraulics, Euro 8 quick-release headstock and rapid tractor uncoupling.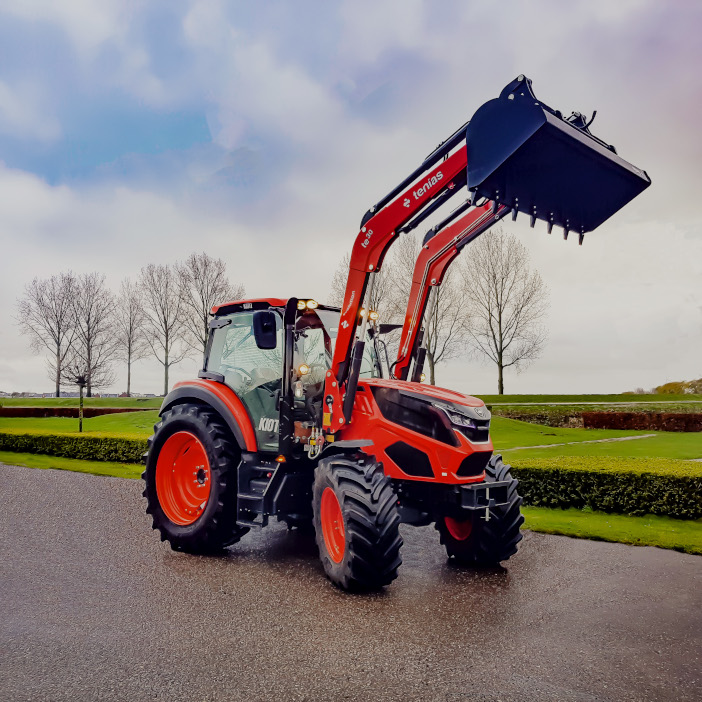 Further increasing the versatility, the HX range can also be specified with a hydraulic rear hitch, with a hook and clevis. The system is designed by the Dutch company Pateer specifically for the Kioti machine and comes complete with a hydraulically telescoping function to ease implement attachment.
Two models of the HX are available in the UK, the HX 1001 and HX 1201, offering 100hp and 115hp respectively. Both are available with PTO engine boost and feature a 32×32 power shuttle gearbox.
The Kioti HX range is supplied with a five-year/3,000 hour warranty. For more information go to www.kioti-uk.com