Remaining a vital market in UK agriculture, the focus of sprayer development continues to revolve around greater accuracy, higher capacities and increased automation.
When considering their next sprayer purchase, operators have a choice of three units; the mounted, the trailed and the self-propelled. Each offers its set of benefits, with the trailed and mounted models often in competition for market share, while self-propelled operators tend to cover a much larger acreage to justify the expenditure.
According to figures from the Agricultural Engineers Association (AEA), the number of trailed sprayers delivered has remained steady for close on a decade, while sales of mounted machines have been on a downward trend – eventually being overtaken by trailed machines in 2018.
Figures from 2021 showed 190 mounted machines delivered, 230 trailed units and 110 self-propelled sprayers – the AEA notes that supply chain disruptions have had an impact on these figures, measuring machines delivered to the dealer, not simply the number produced. This has apparently impacted self-propelled deliveries more than trailed or mounted, with that range of machines having a particularly difficult two years.
Projected figures for 2022 show a level of recovery for self-propelled machines, increasing to around 160 units. The story for trailed and mounted sprayers remains very similar, with mounted continuing on a downward trend with between 170 and 175 units delivered, while trailed units are expected to make up between 250 and 270 of the total sprayers registered.
The choice of units available enables operators to make capital purchases based on the needs of the farm. Here, we will look at the developments in mounted and trailed sprayers as output and accuracy continue to dominate development.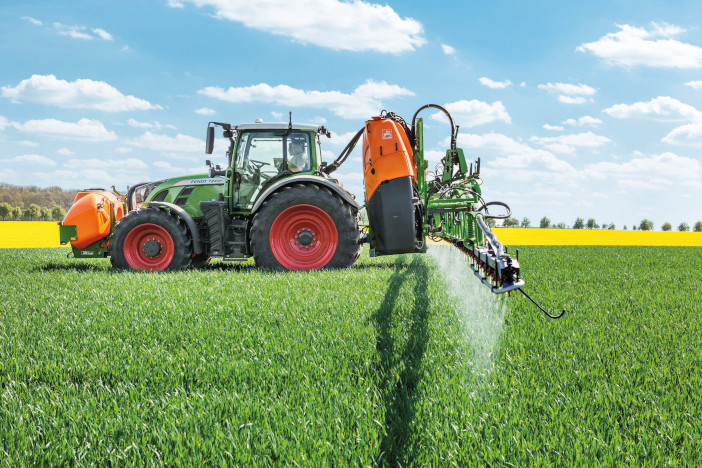 Amazone offers a comprehensive portfolio of sprayers, including the UF 01 and UF 02 mounted units, the former running from 900 to 1,200 litres with boom widths up to 24m, while the latter offers capacities between 1,000 and 2,000 litres with boom widths up to 30m. Both mounted ranges are available with a front tank, 1,000 litres or 1,500 litres respectively.
Trailed ranges include the UG 00 (2,500 to 3,000 litres, up to 28m), UX 00 (3,200 to 5,200 litres, up to 36m) and the UX 01 (4,200 to 8,600 litres, or 11,200 litres on tandem running gear, up to 42m).
The company reports that focus remains on targeted application, offering AmaSelect Row and AmaSelect Spot to switch from full width spraying to bands or individual zones. This is possible thanks to the AmaSelect individual nozzle control system.
Most recently the company has introduced DirectInject, enabling additional products to be applied in problem areas of the field. Amazone's UX SmartSprayer also utilising Bosch scanning systems and BASF's xarvio software for real-time identification of weeds and subsequent application.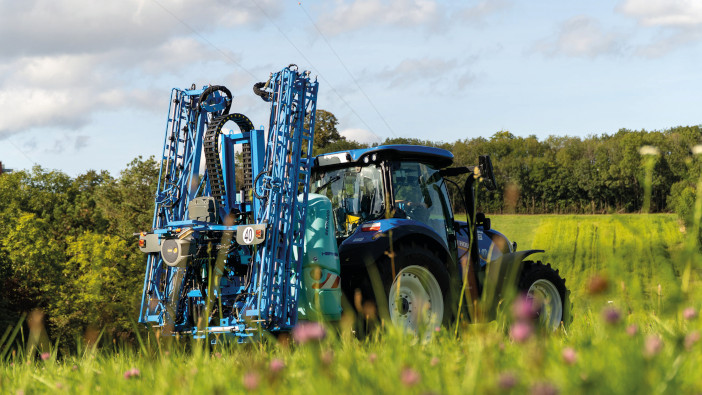 New developments from the Berthoud camp include Sniper, designed for ultra-targeted applications. Using Carbon Bee AgTech camera systems, Sniper can detect weeds as both green on brown and green in green, enabling herbicides to be sprayed only on the desired plants.
Elsewhere, a new generation of the Hermes mounted sprayer is set for release. The Hermes 2 will feature increased levels of precision farming technology and offer capacities between 1,600 and 2,000 litres, with boom widths extending from 20m up to 30m. It joins the Elyte two-model range, with capacities of 1,200 and 1,600 litres, which can be linked to the Tandem front tank to boost capacity by another 1,000 litres.
The flagship Vantage Dark trailed unit comes in five models between 2,800 and 6,700 litres, with boom widths up to 44m. It comes with an Actiflex II suspension system and the Dualmatic filling control system, which can, as an option, be upgraded to in-cab control.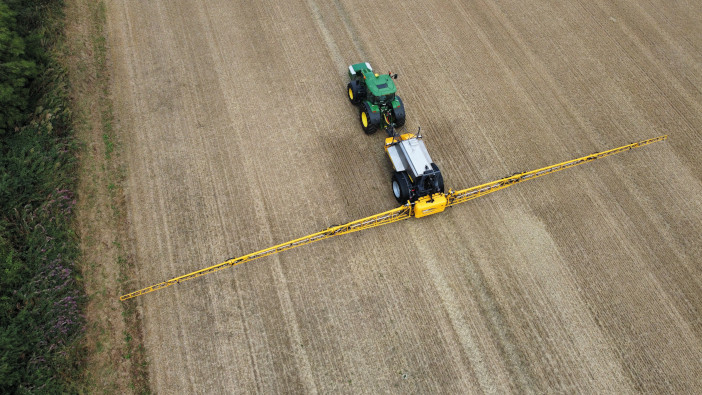 Lincolnshire manufacturer Chafer supplies the same level of technology on trailed machines, regardless of size and machines are built to customer requirements, rather than for stock, and can apply chemicals and liquid fertiliser as standard.
Popular options include ePlumbing for automatic control of the filling, dilution and rinsing of the stainless steel tanks. Cleaning is further optimised with the AirPurge system, which clears the plumbing system ahead of washing down. Automatic boom levelling is available with the Norac UC7 option, as is pulse width modulation which maintains pressure in the spray line for rate control, turn compensation and individual nozzle control.
Three models of the Guardian sprayer are available, with 3,000, 3,500 and 4,000-litre capacities and boom widths ranging from 24m up to 32m. The Sentry comes with a 4,000, 5,000 or 6,000-litre tank, with three types of boom available up to 42.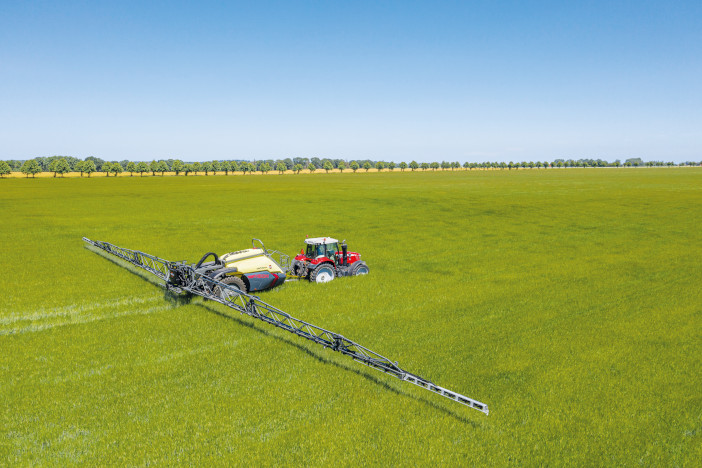 Hardi has introduced the PulseSystem for Aeon Centura and Navigator trailed sprayers fitted with either a Delta Force or Twin boom. Using pulse width modulation, the new option can further control drift, offer variable rate application and individual nozzle control across the full boom width and provide turn compensation to avoid over and under coverage.
Aeon Centura machines are available with capacities of either 4,200 or 5,200 litres, with boom widths up to 39m with the Delta Force and 30m with the Twin Force variant. ComfortTrack steering, hydraulic axle suspension and leaf spring suspension for the drawbar are standard. Navigator sprayers run from 3,000 to 6,000 litres.
The Mega mounted range – available in capacities from 1,200 to 2,200 litres with either the Pro or VPZ booms – has also undergone updates, with the option of AutoNozzle Control. Suitable for any ISOBUS terminal, the system can operate up to 40 sections across the boom length and can be linked to an application map for spot spraying.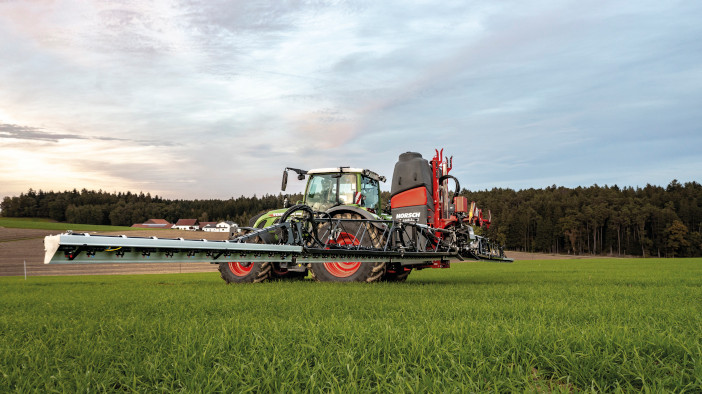 Horsch's mounted Leeb CS is the most recent addition to the sprayer range, available in 1,400, 1,800 and 2,200-litree capacities and suitable to be combined with the Leeb FT front tank, which can increase capacity by either 1,200 or 1,800 litres.
Features found on the larger trailed and self-propelled machines have been brought down to the mounted range, including the BoomControl active boom system, said to be unique in this sector, as well as the CCS Pro continuous cleaning system and the induction tank.
Leeb CS machines can be specified with a 25cm nozzle spacing, while the design provides an optimal centre of gravity for greater stability in the field and during transport. Horsch has further developed a new coupling triangle and hydraulic drive, making mounting and unmounting easier.
The ISOBUS compatible Leeb FT front tank is comes complete with integrated lighting and an optional camera system. The Basic model has no agitator or cleaning system and can be used as a water tank, while the Pro unit is fully integrated into the sprayer software.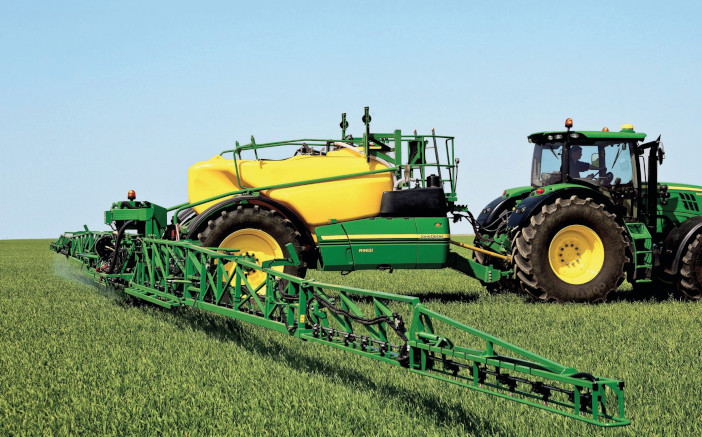 Launched last year, John Deere offers the R975i, the company's largest trailed sprayer at 7,500 litres. Boom widths range from 24m to 40m in twin or triple folding configurations. All booms come equipped with the TerrainCommand Pro system.
Individual nozzle control is available as an option, as is 25cm spacing, enabling lower boom heights to be used to reduce spray drift. John Deere's 25cm spacing solution also integrates an additional nozzle at each end of the boom to eliminate under-dosing. The axle width on the R975i can be adjusted from 180cm up to 225cm.
As standard, the PowrSpray dual circuit spraying system is fitted, designed to speed up spraying times and improving accuracy. The internal centrifugal filling pump offers outputs up to 1,200 litres per minute, while the centrifugal spray pump runs at 750 litres at a 3bar pressure. There is a further option to uprate the spray pump to 1,000 litres. The option of a closed-transfer system limits operator contact with chemicals.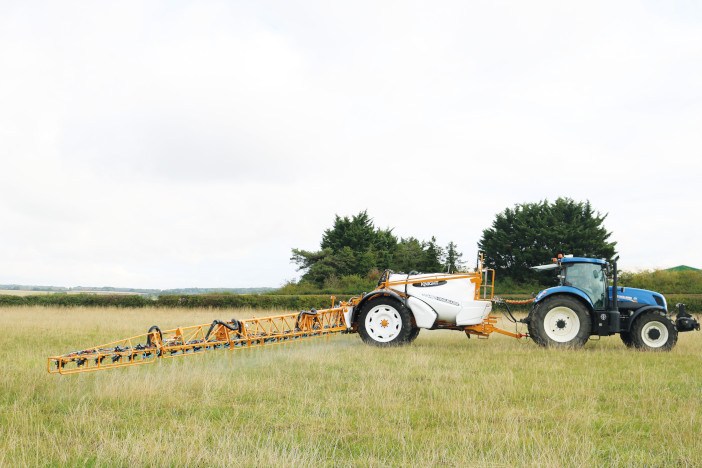 Knight Farm Machinery offers the TrailBlazer trailed ranged and the Xtra mounted range. The TrailBlazer Pro, available in capacities up to 8,000 litres and features a new design that positions the spray tank lower into the chassis for improved stability.
A steering rear axle and hillside compensation are standard fitment, as is a sprung drawbar to improve ride quality. The plumbing system has been simplified and fitted with an air purge system and automatic clean water fill. There's also the option of Active Rinse, available across the portfolio, which rinses the machine with clean water to minimise spray solution left in the system.
Also available on all Knight machines is the Vario Select variable rate application system, with each nozzle housing holding four different nozzles for a possible 16 different spray rates up to 800 litres per hectare.
The Xtra range is available in capacities of 1,300, 1,600 and 1,900 litres, combinable with a front tank to boost total tank size to 3,800 litres.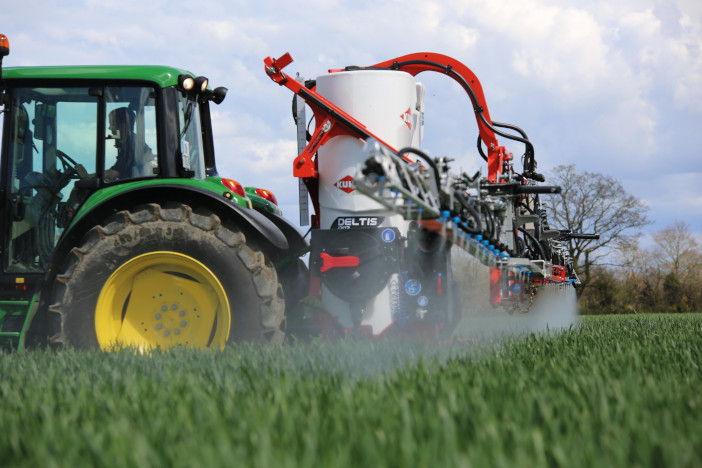 The comprehensive range offered by Kuhn includes four variants of mounted sprayers and two trailed sprayers. For large scale operators using a mounted system, the Deltis 2 offers capacities of 1,000, 1,300 and 1,500 litres, with boom widths up to 24m available, piston diaphragm pumps up to 200 litres per minute and the option of ISOBUS control.
Altis 2 models are uprated, with 1,500, 1,800 and 2,000-litre tank sizes, pump outputs up to 265 litres and boom widths ranging from 15m up to 28m. ISOBUS control is an option, as is GPS controlled section control.
Lexis trailed machines are available in 2,400 or 3,000-litre capacities, with boom widths from 18m up to 28m. Track width can be adjusted from 150cm up to 225cm and ISOBUS control is available, along with section control. The Metris 2 is available in similar specification, retaining ISOBUS and section control but increasing tank sizes to 3,200 or 4,100 litres, boom widths to a maximum of 38m and pump output to 500 litres per minute if specified.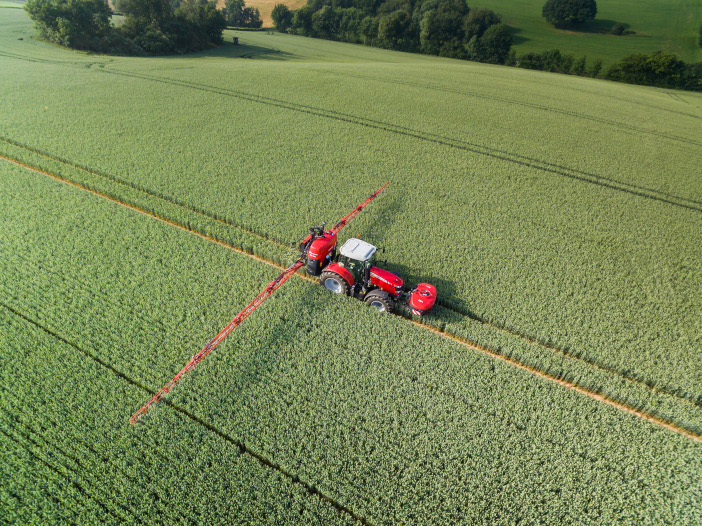 The newly designed iXtrack 4 trailed sprayers from Kverneland slots in between the existing iXtrack 3 and 6 ranges, offering capacities from 3,400 to 4,600 litres and boom widths up to 40m. Options include the iXclean Comfort and Pro packages, the latter offering fully automatic electric valve management for full control from the cabin. 25cm nozzle spacing is available, with the possibility to equip the SpotSpray application when using the IsoMatch Tellus terminal.
Similar technology options are available on the iXtrack 6, offered in tank sizes of 6,400 and 7,600 litres, as well as the smaller iXtrack 3, which is available in 2,600 and 3,200-litre capacities with boom widths up to 30m.
Mounted units include the iXter A, in 800, 1,000 and 1,200-litre capacities, designed as an entry level unit with two boom types available in widths up to 21m. The iXter B runs from 1,000 up to 1,800 litres, with boom types available up to 30m.
Read our Kvernland article here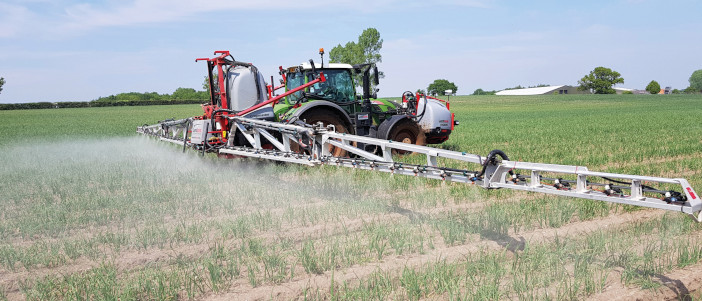 Landquip offers a range of mounted machines under the Cropmaster brand. Units are offered with a 1,300, 1,600 or 1,900-litre tank capacity, with standard boom widths of 20m to 24m and the option of a 28m wide unit. Capacity can be further extended with the Vision front tank, available in 1,500 or 1,900 litres.
Trailed machines are available with Pommier aluminium booms from 20m up to 48m, with three sprayer ranges to choose from. The Spraymarc is fitted with a mechanically tracking drawbar, offering capacities of 2,500 or 3,000 litres. Electrac machines offer the same capacities, plus an electrically operated, hydraulically steered drawbar and air suspension.
Topping out the range is the InTrac, with a steering axle, air suspension and the choice of medium capacity (3,600 or 4,200-litre) or large capacity tanks (5,200 or 6,000 litres). A recent development is the PowerTrac driven axle sprayer, providing up to 130hp tractive drive the sprayer's axle from an on-board 220-litre hydraulic system and available with capacities from 6,000 to 8,000 litres.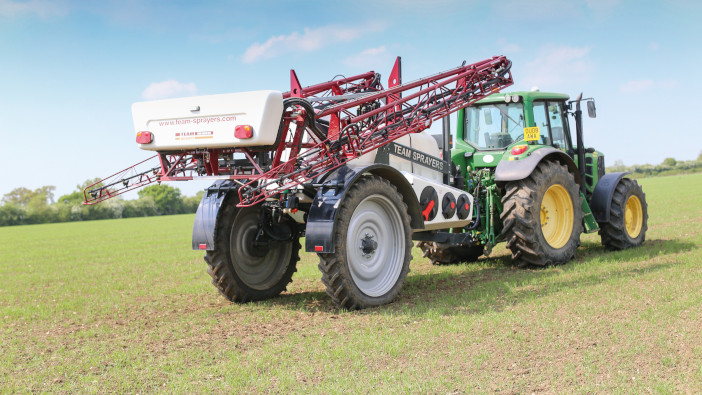 Reporting an increase in demand for British-built machines, Team Sprayers has expanded its operations. It's agricultural features both mounted and trailed units, with the best-selling Leader trailed machines being key. The Leader 3 offers capacities of 2,500 or 3,000 litres, increasing to up to 4,000 litres on the Leader 4. The larger machines also feature boom stabilisation, computerised boom switching, GPS and various steering options.
The Leader 4 is further enhanced by electro-hydraulic boom folding and low-folding boom design which, along with the profiled tank is said to give the sprayer a low centre of gravity.
In the mounted portfolio, the Alpha range as been designed as a low cost, easy to use product with capacities of 600, 800 and 1,000 litres and boom widths up to 12m. The larger Sigma runs to 1,500 litres with the option of a hydraulically controlled boom at 18m. Topping out the mounted series is the Arian 2, with moulded plastic tanks up to 1,800 litres, booms up to 27m and two-stage control valve operation to keep waste to a minimum.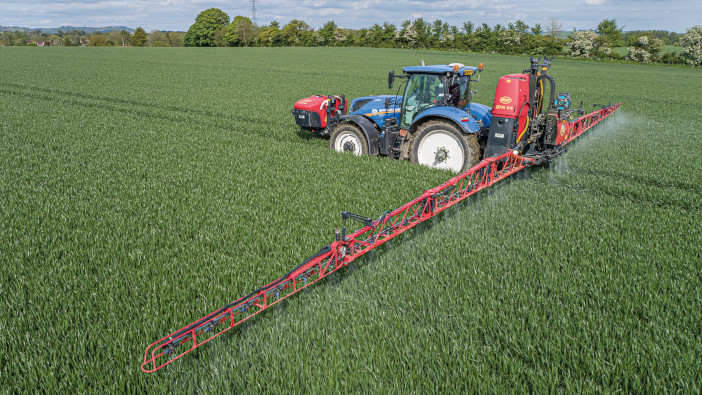 The iXter range of mounted and trailed sprayers from Vicon offers a wide range of specifications and precision farming systems to suit different farming situations. The mounted portfolio is split into the three model iXter A (800, 1,000 and 1,200 litres) and the four model iXter B (1,000 to 1,800 litres). The B range can be equipped with various cleaning technologies, including iXclean Comfort and iXclean Pro, as well as the iXflow-E recirculation system and electronic nozzle control.
It can also be combined with the iXtra front tank, adding more than 1,100 litres to the total capacity and which is fully integrated into the control system to be used as an extension to the main tank, as a second tank for different tank mixes, or as a water reservoir.
Trailed units include the iXtrack T3 (2,600 and 3,200 litres), the iXtrack T4 (3,400, 4,000 and 4,600 litres) and the iXtrack T6 (6,400 and 7,600 litres). The T4 and T6 can be fully specced up to ISOBUS standards, with the IsoMatch Grip joystick for control of up to 44 functions from the cab.