East Coast Viners has become the first Scottish company to operate a fully automated Tornum grain dryer. The family-run firm, which operates from Stonehaven, grows and dries its own grain, as well as sourcing grain from local farms, to produce a range of compound and blended feeds.
The company recently purchased a new Tornum TK8-20 grain dryer. The continual flow unit is the first in Scotland and features an automated Intelligent Dryer Control system, said to reduce energy consumption and labour costs, while also improving consistency for safe storage.
Alongside the new dryer, East Coast Viners has invested in new elevators and conveyors from Skandia Elevator, which worked in tandem with the Tornum Group.
Ryan Daly, operations director at East Coast Viners said: "We had been looking to upgrade our own dryer for some time and had been exploring various manufacturers, but Charles and James White at Tornum gave us confidence that their solution best fitted our needs, they understood our requirement for primarily utilising our renewable heat source and providing a bespoke solution to ensure its effectiveness.
"The grain will be dried using mainly biomass heat topped up slightly using modulating burners where temperatures aren't high enough. This will save on costs and reduce our reliance on fossil fuels, which falls into line with changes we are making elsewhere in the business, having invested in wind turbines, electric forklifts and soon to be exploring solar power.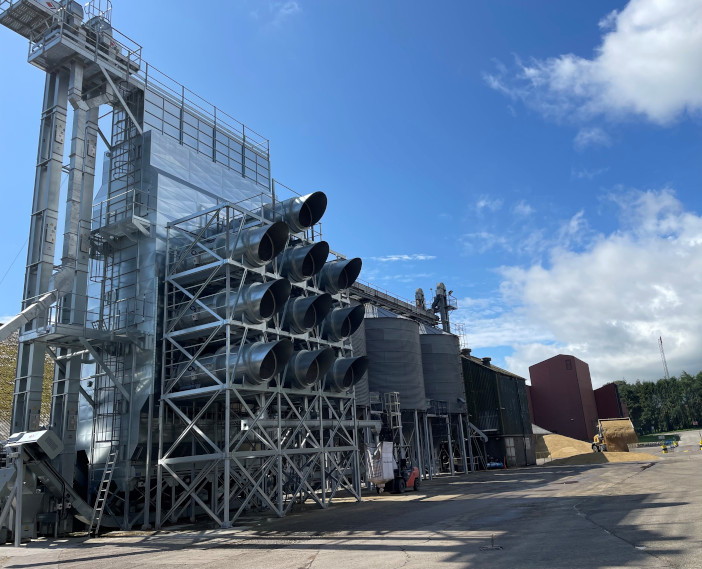 "Due to general wear and tear, our last dryer was producing a maximum of 30/t of product per hour, but this new model can dry grain in excess of 100/t per hour at full heat and should dry an excess of 30,000/t of product annually and has the capacity to do more.
"One of the major selling points of this new dryer is that it is fully automated via Intelligent Dryer Control, which gives us the ability to programme exactly what we want it to do. Allowing us to set the moisture and drying levels needed for individual loads. Our previous dryer was manual, so this new automated system gives us a whole new level of control and useability."
Charles White of Tornum Ltd, the UK division of the Tornum Group, added: "East Coast Viners came to us looking for a model which could utilise their biomass radiators, reduce over-drying and subsequent input costs, all with the aim of lowering their carbon footprint.
"The automated system aims to reduce over-drying of the grain and can record the moisture levels, spot any fluctuations, and aims to equalise them ready for long-term storage. The target moisture level is ideally 14% but if this is to drop to 13% or 12%, there will be additional costs of 30% and 50% respectively, due to weight loss and increased energy consumption. The Intelligent Dryer Control System will keep costs down and produce a more consistent and efficient end product."
According to the company, another unique feature is that it comes with ten front-mounted Clean Air Control (CAC) fans, designed to remove dust and chaff from the dryer and stop it from going into the atmosphere. Tornum states that the CAC system can remove up to 95% of grain dust and chaff.
East Coast Viners is the only feed mill in Scotland to grow, dry and feed their own grain. The new dryer will be used mainly for barley, malting barley, wheat and oilseed rape, but can also be used for oats, peas and beans.
"We are always looking to improve consistency in our product, which involves striking a balance between not over drying or under drying our grain, as the former means you are losing weight and the latter will impact your ability to store it correctly and could risk it spoiling," said Mr Daly.
"Although we grow and dry malting barley, our core drying operation is to assist us with our nutrition business and ensure customers are getting high quality, locally grown and cost-effective products.
"Purchasing the new dryer has been a big investment for the company but we believe it was a really good step in future-proofing the business and giving us more scope to do what we are doing in a shorter period of time, more efficiently and has the potential to really increase our drying capacity.
"We have only had the dryer in action for a matter of days and look forward to seeing how it will allow us to grow the grain business and enable us to share these benefits with our customers."
For more information about Tornum Ltd go to www.jwi.ltd. To find out more about East Coast Viners, go to www.eastcoastviners.co.uk