Winning Vegetable Grower and overall Grower of the Year, East Lothian Produce has implemented a high level of quality control across a significant acreage.
Taking the top prize at the National Arable and Grassland Awards back in February, East Lothian Produce has developed from a fruit and vegetable grower for markets to a substantial supplier to supermarkets which has invested in both vertical and horizontal integration to take greater control of the supply chain.
The company has its roots back in 1976 when Billy Logan took over his family's 40-acre smallholding, expanding the vegetable business he had started in his parents' garden at 14. Now run day-to-day by his son Chris, East Lothian Produce is split into two complementary businesses: W&R Logan, which handles all field operations and crop care, and East Lothian Produce which deals with processing, packing and marketing the crops. Employing 80 people full time, the business grows a rotation of potatoes, sprouts, three different varieties of cabbage, broccoli, parsnips and 900 acres of wheat and barley, with an additional 2,000 acres of contract farming agreements.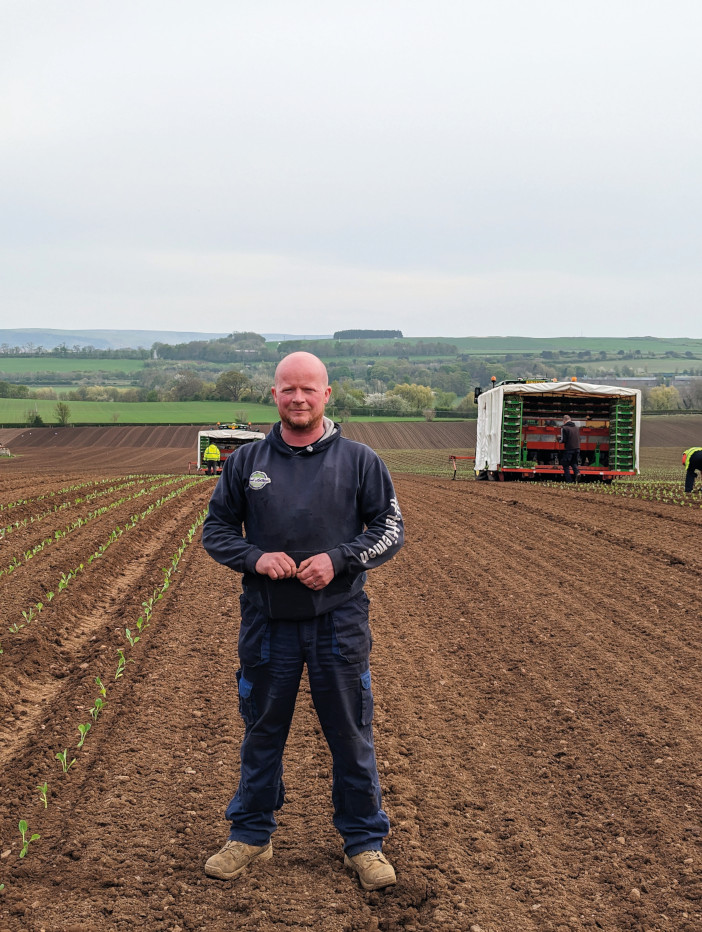 Chris notes that there was a turning point at the end of the 1990s, when they had the opportunity to take on a contract to provide direct to Tesco and Co-op. "We purchased the packing machinery from another firm in Inverness and we've continually invested in our processes since then to maximise quality and efficiency," explained Chris.
Onsite, the business has six fridges, with space to store 20,000 veg boxes and around 3,000 tonnes of grain. This is supplemented with offsite storage on rented ground that can be used as and when required. The packhouse is fully kitted out with grading and packing equipment, primarily supplied by Tong Engineering, with automated processes and optical sorting where possible to maximise the use of labour.
"There's a never a quiet period," noted Chris. "The only day we don't have trucks leaving the yard is on Christmas Day, and in the build up to that, when demand for sprouts is at its highest, we can be in the field at 3am to make sure that fresh produce is coming through the packhouse by 6am. On average, we would see five or six lorries being loaded a day, but in peak periods, this can increase to upwards of 20."

Growing quality
The farming arm of the business works within a 30-mile radius of the base, just outside of Haddington, on a mix of rented and owned ground. Chris explained that they take soil health very seriously to keep quality high and to minimise establishment costs.
"We regularly test all of our soils, including pH levels and for remnants of diseases such as clubroot," Chris said. "The various disease and weed pressures are expensive to treat and can massively impact yield, which can quickly impact the tight margins we work to."
To build comprehensive establishment and crop care plans, he works with Frontier for potatoes and cereals, and with independent agronomist Matthew Bell to handle the rest of the rotation. "I like working with Matthew because of that independence. When he recommends a product to us, I can be confident that it is the best product for the job rather than a product the company wants us to use."
Over time the rotation has been widened to improve soil health, with potatoes moving to one in ten where possible but always one in seven at a minimum. They follow a vegetable crop, with a cover crop put in between to boost organic matter and available nutrients. Additional organic matter is also provided through straw-for-muck deals with local farmers, as well as manure from the 80-head fattening cattle herd kept on the site.
"We always had livestock," Chris explained. "But stepped away from that side of the business when we expanded to deal direct with the supermarkets. Now it's something that I do on the side; we graze them and feed them with any vegetable waste."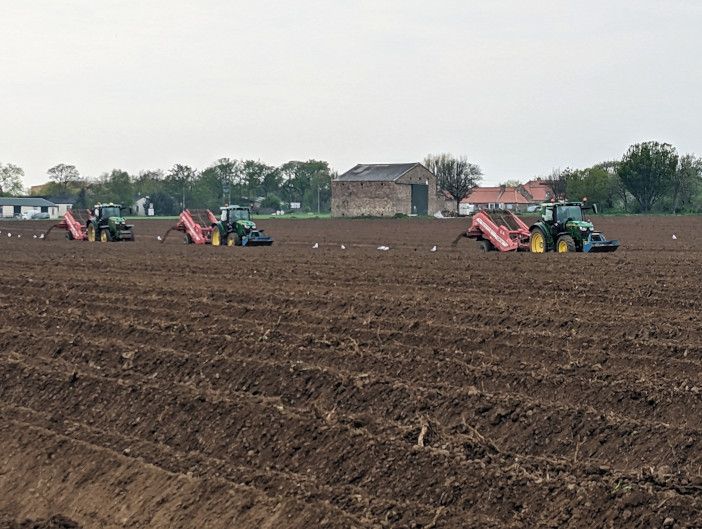 Crop care is done with two self-propelled sprayers, one from Sands Agricultural Machinery and another from John Deere. Both are equipped with 36m booms, and the John Deere has been specified with pulse width modulation. "That was a massive selling point for us because its allowed us to extend that working widow and apply chemicals more accurately."
These are backed up by a Garford Robocrop mechanical weeder, used where appropriate to handle weed pressure in the high value crops.
Automation and labour
The sector that East Lothian Produce operates within means that it is simultaneously working with highly advanced automated systems, while still relying on a labour force to handle key parts of the operation.
The bulk of the horsepower comes from John Deere, with twenty tractors owned by the company and more hired in when required. Machines are kept for 10,000 hours, with three sets of wheels purchased for each tractor so that they can work across multiple crops – representing a significant investment for the company. Additional tractors from Fendt and JCB are also present in the yard.
Most of the potato kit is provided by Grimme and the firm runs two New Holland rotary combines. Vegetable machinery is sourced from various companies, including Standen and Edwards Farm Machinery, with gangs of workers in place to get crops into the ground in a timely manner.
"Like everyone has, we've had issues finding labour in recent years," Chris explained. "We used to have local people come out into the field for planting and picking, but recently we've relied more on European labour, which has become more difficult since Brexit."
To combat this, there has been investment in automated picking and Chris is currently looking into robotic planters for high value crops like sprouts. "If it can maintain, or even increase our output without increasing our costs than it needs to be considered. But this all comes with a significant investment and we, and all producers, need to see greater levels of commitment from the supermarkets to give us the confidence to push forward."
By keeping quality as the focus, Chris concluded that he wants to continue expanding the business, both in the field and as a supplier to retailers. "We know what we're doing and what results we want, so we're always on the look out for additional opportunities that fit within our business."
More information
Read about the 2023 NAGA winners, here.
For news and updates about the 2024 NAGA awards, nominees and winners, follow
National Arable and Grassland Awards
#NAGAwards